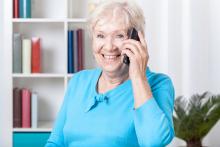 Caregiving
5 Questions About Long-Distance Caregiving
What is long-distance caregiving? It can be helping Aunt Lilly sort through her medical bills or thinking about how to make the most of a weekend visit with Mom. It can include checking the references of an aide who's been hired to help your grandfather or trying to take the pressure off your sister who lives in the same town as both your aging parents and her aging in-laws.
Here, from the National Institute on Aging, are the answers to five key questions about long-distance caregiving:
1. How will I know if help is needed? Uncle Simon sounds fine on the phone. How can I know that he really is?
Sometimes, your relative will ask for help. Or the sudden start of a severe illness will make it clear that assistance is needed. But, when you live far away, some detective work might be in order to uncover
possible signs that support or help is needed.
A phone call is not always the best way to tell whether or not an older person needs help handling daily activities. Uncle Simon might not
want to worry his nephew, Brad, who lives a few hours away, or he might not want to admit that he's often too tired to cook an entire meal. But how can Brad know this? If he calls at dinner and asks "what's cooking," Brad might get a sense that dinner is a bowl of cereal. If so, he might want to talk with his uncle and offer some help. With Simon's okay, Brad might contact people who see his uncle regularly—neighbors, friends, doctors, or local relatives, for example—and ask them to call Brad if they have concerns about Simon. Brad might also ask if he could check in with them periodically. When Brad spends a weekend with his uncle, he should look around for possible trouble areas—it's easier to disguise problems during a short phone call than during a longer visit.
Brad can make the most of his visit if he takes some time in advance to develop a list of possible problem areas he wants to check out while visiting his uncle. That's a good idea for anyone in this type of
situation. Of course, it may not be possible to do everything in one trip—but make sure that any potentially dangerous situations are taken care of as soon as possible. If you can't correct everything on
your list, see if you can arrange for someone else to finish up. When you live far away, some detective work might be in order to uncover possible signs that support or help is needed.
In addition to safety issues and the overall condition of the house, try to determine the older person's mood and general health status. Sometimes people confuse depression in older people with normal aging. A depressed older person might brighten up for a phone call or short visit, but it's harder to hide serious mood problems during an extended visit.
2. What can I really do from far away? My sister lives pretty close to our parents and has gradually been doing more and more for them. I'm halfway across the country. I'd like to help them and my sister, but I don't feel comfortable just jumping in.