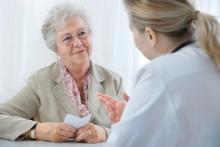 5 Treatments Older Adults May Not Need
By Anne-Marie Botek, Editor-in-Chief of AgingCare.com
Overtreatment is a persistent problem among the aging population. Research shows that the more doctors an individual has, the more likely a patient is to be prescribed conflicting medications. Indeed doctors may over treat elderly patients unintentionally.
In an effort to encourage honest, informed communication between doctors and their patients, the American Board of Internal Medicine (ABIM) created Choosing Wisely, a campaign that enables different medical societies to create lists of "Things Physicians and Patients Should Question." The initiative contains information from about 50 different organizations, including the American Geriatrics Society (AGS) and the American Medical Directors Association (AMDA).
Here, from the lists, are five typical treatments for aging adults that may not always be necessary:
Anti-psychotic medications:Both the American Geriatrics Society (AGS) and the American Medical Directors Association (AMDA) advise that antipsychotic medications such as Seroquel, Risperidone, and Zyprexa should not be given to people with dementia unless other methods of managing anxiety and outbursts including behavioral therapy have already been attempted. "Antipsychotic medicines are often prescribed, but they provide limited benefit and can cause serious harm," says the AGS in a statement. The effectiveness of these prescriptions vary depending on the individual and the type of dementia they have. The common caregiver refrain is, "Should someone with Alzheimer's be given antipsychotics?" Elder care experts have hotly debated this issue, trying to tease out the specific benefits of these medications for people with dementia and weigh them against the side effects, which can include confusion, incontinence, dizziness and even an increased risk of sudden death.
Cholesterol-lowering drugs:While undoubtedly beneficial for middle-aged individuals and those with certain heart conditions, cholesterol-lowering medications called statins may not help those in their 70s, 80s and 90s, according to the AMDA. As with all drugs, statins carry certain risks. These nclude muscle damage and weakness, increased risk of falling, and cognitive impairment. The likelihood that a person will experience these side effects tends to increase as they age. Research also indicates that low cholesterol may actually be a negative for some older adults. These are just a few of the things to consider when taking statins.
Pages: 1 2