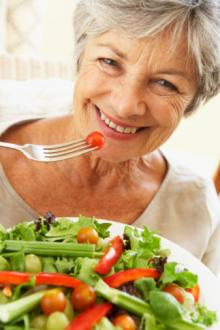 6 New Ways to Love Your Salad
By Jon Yaneff
There is a classic Simpsons episode where Homer and Bart chant to Lisa, "You don't win friends with salad." This popular television family would mark any occasion with donuts and Duff beer, if Homer had anything to do with it.
You should make friends with your salad, but it sure can get boring. I remember the basic garden salad at the dinner table growing up. It was always made with lettuce, tomato, onion and cucumber, with an assortment of salad dressing choices: Thousand Island, French, Creamy Caesar…so predictable!
Salad is typically the go-to food when creating healthy eating habits because there is usually an assortment of vegetables and light dressing options. You don't want your relationship with your salad to get stale though. So here are five ways to keep things interesting, healthy, and satisfying, too.
Get Creative with Your Greens
Garden and Caesar salads are easily the most common, however, kale or spinach definitely packs a healthy punch. Even tossing broccoli, mung bean, or alfalfa sprouts will add some more nutrients and flavor. Spinach and kale are full of dietary fiber, antioxidants, iron and omega-3 fatty acids. As a whole, there is more nutritional value when you combine various dark leafy greens to create a healthy salad.
Throw in Avocado
Avocados have a great creamy taste and are loaded with nutrients like B vitamins, monounsaturated fats (the good kind of fat) and dietary fiber. Cut half of an avocado into cubes and toss them on top of your prepared salad. A healthy diet certainly needs some healthy fats, and avocados are an easy way to get some fat in your salad without the guilt.
Consider a Few Eggs
Are you looking for some more protein in your salad? Go for eggs: One boiled egg contains 5.54 g of protein, which is important to help create muscles, tissues and immune system antibodies. Boil a couple of eggs and chop them up into your healthy salad. Remember that organic eggs are the only way to avoid any antibiotics, steroids or hormones from factory-farmed hens.
Add Whole Grains
Numerous studies show there are lots of benefits to a diet high in fiber. Salad can do its part. There is plenty of fiber with the dark green leafy vegetables; however, whole grains will add more fiber and protein to your meal, and boost variety as well. Throw in half a cup of quinoa or brown rice, as each serving will provide you with over 10 g of protein and an abundance of other nutrients like manganese, magnesium and tryptophan. All good!
Make Your Own Salad Dressing
Most store-bought salad dressings simply aren't healthy. They contain lots of salt, sugar and other chemical additives. As with most things, making your own dressing is a good idea because you can control the ingredients, and the resulting calories, too!
Pages: 1 2