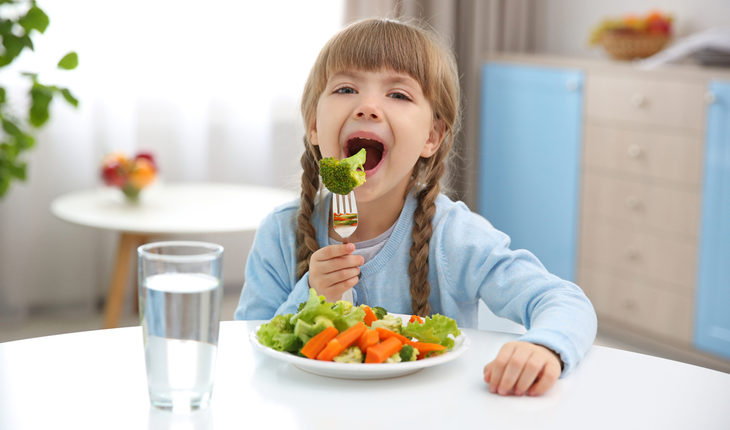 Grandparenting
Parenting
6 Reasons To Stop Feeding Your Kids and Grandkids "Kid Food"
Nutrition shouldn't be hidden, so stop hiding the veggies.  Kids that are very hesitant eaters may be benefit from a few hidden vegetables as they gain confidence in food, but in general parents should try to help kids learn to love healthy foods without hiding them. While hidden veggies may help nutritionally, the kids may not gain an understanding that vegetables can be delicious, so they may still try to avoid them when they are visible. Get kids loving their veggies by leading by example, preparing them together, growing a garden, and visiting a farmers market where they can pick out a couple of things to try. The more variety they are exposed to and realize that they enjoy, the better the eating habits will be.
"If kids can get involved in the food process, from shopping to preparing it, and they can learn about why eating healthy is so important to them, they are more likely to do so," adds Heidi DiEugenio, a director at the Doctor Yum Project. "This will help them avoid the obesity problems, chronic health issues, and they will have a better opportunity to live a healthier life throughout their adulthood."
According to the Centers for Disease Control and Prevention, healthy eating habits can help children maintain a healthy weight, as well as reduce their risks of such conditions as heart disease, cancer, diabetes, iron deficiency, dental cavities, osteoporosis, and high blood pressure. An unhealthy diet, on the other hand, can lead to being overweight or obese, increase risks for certain types of cancer, and negatively affect overall health, cognitive development, and a child's school performance.
Dr. Fernando and Heidi DiEugenio are two of the original founders of The Doctor Yum Project, an organization with the mission of transforming the lives of families and communities by providing an understanding of the connection between food and overall health, as well as empowering them with the tools to live a healthy life. The project offers free online tools to help families make healthier meals, healthy cooking classes, child nutrition classes, cooking camps for kids, hands-on cooking instruction for families, first foods classes, and a teaching garden, They also offer a preschool nutrition curriculum, with 40 classrooms and almost 600 participating preschoolers. They are the go-to resource for families looking for answers on how make healthy, achievable dietary changes for a lifetime of good health.
Dr. Fernando, otherwise known as Dr. Yum, is a board-certified pediatrician. She is also the co-author of the book "Raising a Healthy, Happy Eater: A Parent's Handbook" (The Experiment, October 2015). To learn more, visit the site at: www.doctoryum.org.
About The Doctor Yum Project