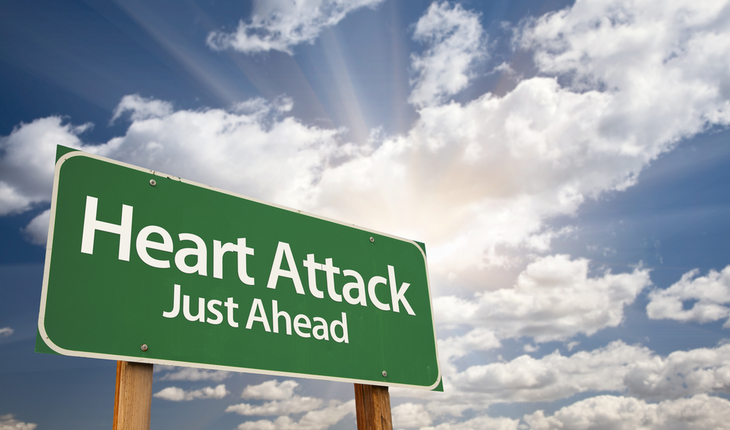 Heart Health
6 Things I Learned from My Hollywood Heart Attack
Few life experiences described as 'unremarkable' merit high approval. A doctor's appointment that concludes with 'unremarkable' in your medical chart is one. A seamless, multi-stop transatlantic airline flight is another.
I had just landed at John F. Kennedy International Airport after one such unremarkable flight, my husband of 36 years beside me. I felt rested and energized, and mused that travel like this could happen more if we become better long-term planners. He nodded a perfunctory "uh-huh" without looking up from a Baldacci thriller, speed-reading the last few pages before the airplane engine stopped.
Little did I know, I was about to have a heart attack—the kind medical experts term "the widow maker."
1) Time is critical in a heart attack. Medical treatment within 90 minutes of symptoms means a greater chance for full recovery, according to the American Heart Association.
We breezed through the automated passport control area, scanned our passports and took selfies. Then I raced to claim our luggage. Baggage claim triggers my disquiet. Long ago, someone took my luggage off a carousel and abandoned it in a remote area of the airport. I found it eventually, intact, but my pesky cortisol and adrenaline hormones spike whenever I'm at baggage claim.
My husband does not share my baggage claim angst. He headed to the restroom.
At baggage carousel 6, I circled around to the chute opening and waited. Our flight was not unloaded, but like a bird of prey, I was poised and ready to lunge at the first sight of our luggage when it dropped onto the conveyer belt. A baggage handler plucked a few unclaimed bags orbiting in perpetuity from an earlier flight.
In the distant crowd, I spotted my husband and gave him a spirited wave. As the baggage chute began to spit luggage I felt a sudden jolt like indigestion in the middle of my chest. It steadily intensified and radiated from shoulder to shoulder.
2) My symptoms were severe and classic like the so-called man's Hollywood heart attack. But women could experience more subtle signs that include pain in the back, neck, jaw, or belly; nausea; or breaking out in a cold sweat.
I bent forward in an effort to relieve the pressure, but when that didn't help, I crouched on the floor. Now eye level with the conveyer belt, I spotted my luggage, its unmistakable chartreuse-colored ribbon entwined in the handle. With knees pressed to my chest in an effort to mitigate the pain, I glared at my husband and pointed hastily to our bags as they passed by. He scrambled to retrieve them as a small crowd—the curious and the helpful—gathered.
3) It may sound crazy but an airport is a good place to have a heart attack. Public places are equipped to respond to a medical emergency, and many different responders are present to assist.