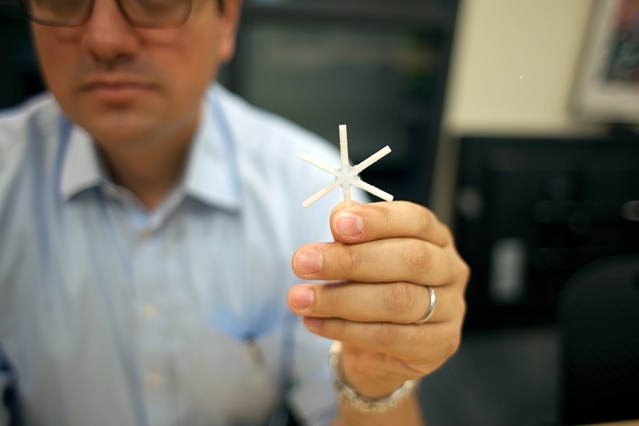 A Drug Capsule Could Eliminate the Need for Daily Dosage
Researchers have now developed a  star-shaped "drug capsule" that remains in the stomach for as long as two weeks after administration, gradually releasing is "payload" and possibly helping to eliminate complicated daily medication routines.
In a study described in journal Science Translational Medicine, the researchers, from MIT and Brigham and Women's Hospital, used this approach to deliver a drug called ivermectin, which they believe could aid in malaria elimination efforts. However, this approach could be applicable to many other diseases, says Robert Langer, the David H. Koch Institute Professor at MIT and a member of MIT's Koch Institute for Integrative Cancer Research.
"Until now, oral drugs would almost never last for more than a day," Langer says. "This really opens the door to ultra-long-lasting oral systems, which could have an effect on all kinds of diseases, such as Alzheimer's or mental health disorders. There are a lot of exciting things this could someday enable."
anger and Giovanni Traverso, a research affiliate at the Koch Institute and a gastroenterologist and biomedical engineer at Brigham and Women's Hospital, are the senior authors of the paper. The paper's lead authors are former MIT postdoc Andrew Bellinger, MIT postdoc Mousa Jafari, and former MIT postdocs Tyler Grant and Shiyi Zhang. The team also includes researchers from Harvard University, Imperial College London, and the Institute for Disease Modeling in Bellevue, Washington.
The research has led to the launching of Lyndra, a Cambridge-based company that is developing the technology with a focus on diseases for which patients would benefit the most from sustained drug delivery, including neuropsychiatric disorders, HIV, diabetes, and epilepsy
Drugs taken orally tend to work for a limited time because they pass rapidly through the body and are exposed to harsh environments in the stomach and intestines. Langer's lab has been working for several years to overcome this challenge, with an initial focus on malaria and ivermectin, which kills any mosquito that bites a person who is taking the drug. This can greatly reduce the transmission of malaria and other mosquito-borne illnesses.
The team envisions that long-term delivery of ivermectin could help with malaria elimination campaigns based on mass drug administration — the treatment of an entire population, whether infected or not, in an area where a disease is common. In this scenario, ivermectin would be paired with the antimalaria drug artemisinin.
"Getting patients to take medicine day after day after day is really challenging," says Bellinger, now a cardiologist at Brigham and Women's Hospital and chief scientific officer at Lyndra. "If the medicine could be effective for a long period of time, you could radically improve the efficacy of your mass drug administration campaigns."
Pages: 1 2