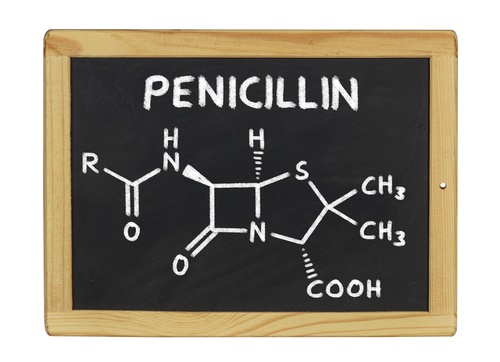 Medical Care
A New Approach to Giving Penicillins
Massachusetts General Hospital (MGH) and Brigham and Women's Hospital (BWH) investigators have developed two approaches to increasing the use of penicillins and cephalosporins – highly effective antibiotics that are not as problematic as many alternatives – in hospitalized patients previously believed to be allergic to penicillin.
Their report, which has been published online in the Journal of Allergy and Clinical Immunology, describes how both tested protocols – use of penicillin allergy skin tests or a computerized guideline/decision support tool – safely increased the use of penicillin and penicillin-related antibiotics in inpatients.
"From 10 to 15 percent of hospitalized patients have penicillin allergy in their medical record, but studies have shown that more than 95 percent are not really allergic," said Kimberly Blumenthal, MD, MSc, of the Division of Rheumatology, Allergy and Immunology, the Medical Practice Evaluation Center, and the Lawrence Center for Quality and Safety at MGH, co-lead and corresponding author of the JACI paper. "We know that over-reporting of penicillin allergies has a negative impact on patient care, as the alternative drugs often used are less effective, more toxic and can both leave patients vulnerable to dangerous C. difficile infection and increase antibiotic resistance in the community. The need to address over-reported penicillin allergy has been widely acknowledged, but how to do that has remained unclear."
"This study offered a unique opportunity to examine what strategy best serves inpatients who have this listed allergy," said co-lead author Paige Wickner, MD, MPH, of the BWH Division of Rheumatology, Immunology and Allergy and the Department of Quality and Safety.
Over a two-year period – June 2014 to June 2016 – the investigators compared three approaches to treating BWH inpatients who needed antibiotic treatment and had a recorded penicillin allergy. During the first five months, patients on the medical service received standard of care treatment, with testing via either skin test or test dosing conducted only after referral by the primary care team and consultation with an allergy specialist.
During the next seven months, inpatients with a recorded penicillin allergy who needed antibiotic treatment were screened for skin-test eligibility. Those with a history of more serious allergic reactions or those taking drugs that could interfere with skin testing were ineligible, and testing also required consent of the patient and the care team. Patients whose skin test was negative and safely tolerated an oral dose of amoxicillin – a form of penicillin in the same beta-lactam antibiotic class as cephalosporins – were determined not to be allergic.