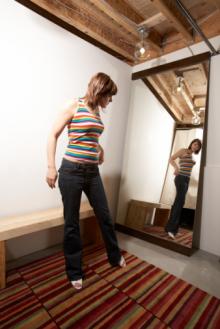 Aging Well
With Age, Body Image Gets Better
Boomers worry less about their appearance than Gen-Xers or Millenials do, according to a national online survey done by TODAY and AOL in February 2014. The results showed that 35% of Boomers aged 50 to 68 worry that people are judging their appearance, compared to 51% of Gen Xers aged 35 to 49 and 62% of millennials aged 16-34. Also, while 80% of women under age 24 worry about their appearance regularly, that number drops steadily with age. Among those who are 55+, 52% worry about appearance regularly.
A release from TODAY/AOL quotes NBC News' Chief Medical Correspondent Dr. Nancy as saying, "We truly are our own worst critics. The average woman frets about at least six perceived flaws – from our stomachs to our skin– on a regular basis. But the good news is along with wrinkles comes the wisdom to accept them. Body image outlook improves with age – and we stop obsessing quite so much about the little things."
The release reports that overall, 67% of adult women worry about their appearance more than about anything else including finances, health, family, relationships, or professional success. Men aren't far behind either, with 53% regularly worrying about their appearance. Only finances, at 59%, rank higher among weekly worries for men.
The release explains that the TODAY/AOL "Ideal to Real Body Image" survey, which examines how Americans feel about the way they look and the powerful influence of social media on self-esteem, found that we are our own worst critics. While 60% of adult women have negative thoughts about their appearance at least once a week, that concern is even worse for teens girls, with 78% of those surveyed reporting having negative thoughts at least weekly. Women do not keep these negative thoughts to themselves, either. Whether they are engaging in "fat talk" or "old talk," 77% of adult women and 80% of teen girls complained about their appearance to someone at least once in the past month.
Results from the TODAY/AOL survey indicate that women's worries over their appearances start almost the moment they wake. Adult women spend an average of 335 hours every year on their appearance, almost 100 more hours than men.
The survey found that women were closely split on the effects of the "always on" nature of social media on their body image. Among adult women, 41% say that "seeing selfies and other flattering photos of myself online makes me feel more confident," but 46% say "overall, social media makes me feel more self-conscious about my appearance."
The paradox is even stronger for the generation that is growing up on social media. Among teen girls, 65% say selfies and flattering online pictures make them feel confident, while 55% report feeling selfie-conscious.
Among the survey's findings:
Pages: 1 2