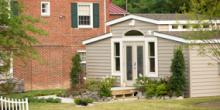 Caregiving
Aging in Place: The "Granny Pods" Trend
By Hilary Young
According to the American Association of Retired Persons, over 80 percent of adults now intend to age in place. Nursing homes are no longer the norm. Many seniors prefer to stay active and remain independent for as long as possible. One major trend that is helping to make this wish come true is the proliferation of transitional housing options, otherwise known as "Granny Pods."
Granny Pods,are small dwellings that fit easily on another home's property–most often in the backyard–which makes it easy for adult children to keep a loving eye on their parent as they age. The homes are designed with seniors in mind. They are equipped with safety rails, well-lit space, rubberized floors, and handicapped bathrooms. Granny Pods have all the function of an assisted living facility with the comforts of home.
A Virginia-based company, MEDCottage, offers three models at different price points. The starting price on these pre-fabricated units is $85,000 with the option to sell it back to the distributor after 24 months of use for $38,000. That might seem like a large initial investment, but most assisted living facilities cost an average of $50,000 each year.  Not only that, but the Granny Pods from MedCottage all come with state-of-the-art amenities including robotic features that can monitor vital signs, filter the air for contaminants, and easily communicate with the outside world. Sensors alert caregivers to problems, and medication reminders are provided via computers.
If you live in the Northeast, you might consider a Granny Pod from Practical Assisted Living Solutions, or PALS.  Headquartered in Connecticut, PALS offers "handicap accessible, universal designed modular home additions that can easily be attached to your home, or temporarily placed on your property."  The company also offers three different models — studios, 1 bedroom or 2 bedroom suites — that take about 6 weeks to customize and install. Prices for PALS Granny Pods start around $67,000 but are also available to lease.  A five-year lease agreement costs an average of $1700 per month, and at the end of the agreement you own the unit. Each PALS unit comes with phone and TV cable lines built into the wall, ensuring there will be no wires to trip over. The units also feature motion detectors that automatically trigger a night-light system, and various no-step entryways.
Pages: 1 2