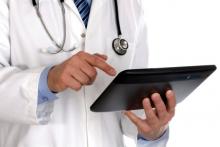 All About Telehealth
From the Mayo Clinic
How many times have you heard it said that the Internet has transformed modern life? Indeed, it's probably changed how you stay in touch with family and friends, purchase goods and services, and even search for information about health problems. But are you using the array of telehealth tools available to improve your health and wellness? If not, you may be falling behind the times.
What is telehealth? Why should you care?
Telehealth is simply using technology, such as computers and mobile devices, to manage your health and well-being. Telehealth, also called e-health or m-health (mobile health), includes a variety of health care services, including but not limited to:
Online support groups
Online health information and self-management tools
Email and online communication with health care providers
Electronic health records
Remote monitoring of vital signs
Video or online doctor visits
Consider how people with diabetes could use telehealth to manage their health — all without having to leave home:
Use a mobile phone or other device to upload food logs, medications, dosing, and blood sugar levels for review by a nurse who responds electronically.
Watch a how-to video on carbohydrate counting and download an application (app) for it to your mobile phone.
Use the same app to estimate, based on your diet and exercise level, how much insulin you need.
Send an email or text message to a nurse or diabetes educator when you have questions.
Order testing supplies and medications online.
Research the pros and cons of alternate treatments, such as insulin pumps.
Get email, text or phone reminders when you need a flu shot, foot exam or other preventive care.
Does that pique your interest? If so, check out the following ways technology can help you better manage your health.
E-visits
An e-visit is a doctor's appointment you do online instead of in person. You type in your question or problem, usually through a progression of questions. Your message is sent to your health care provider, who reviews it and sends a response. You may receive a prescription for medication, a recommendation for a follow-up appointment or other advice. Your messages are secure — meaning no one else can see or read them. Visits can also take place in real time via videoconference.
E-visits can save you — and your doctor — time compared with office visits. They can be especially helpful for people in rural areas or those who don't have access to transportation.
Personal health records
A personal health record is simply a collection of information about your health that you control and maintain. If you have a shot record or a box of medical papers, you already have a basic personal health record. And you've probably encountered the big drawback of paper records: You rarely have them with you when you need them.