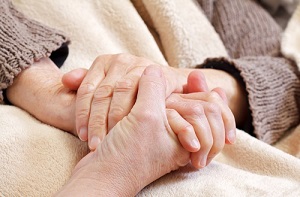 Alzheimer's Disease and other Dementias
Caregiving
Alzheimer's Disease and Decision Making: Do I Know You?
The heartbreak associated with losing a loved one to Alzheimer's disease is indescribable. One day, an adult child holds the hand of a parent; the parent asks, "Do I know you?" and the child's heart (no matter what age) breaks into thousands of tiny pieces never to be repaired.  A spouse experiencing the same response may feel the sting of rejection or the absence of appreciation after a lifelong marriage of commitment and caring.
How are spouses, adult children, and other family members affected by Alzheimer's disease when the patient no longer recognizes his or her own family or believes a son or daughter to be the spouse? Does this lack of recognition seduce family members to hold on more tightly with the hope that one day a loved one may show a glimmer of recollection? Do family members feel disconnected and less committed to continue to visit a loved one who no longer remembers or feels connected to them?  Does this lack of recognition of marriage by a spouse with memory loss raise the option for the healthy spouse to pursue a companion or even another lifelong partner?
I am commonly asked by caregivers of persons with dementia or Alzheimer's disease if their experiences are unusual. I respond that with a diagnosis of memory loss there is no usual, meaning that each journey is unlike another and that there is no crystal ball to predict the future. This uncertainly is the component that results in stress and anxiety for families because many feel they have no control over the situation and delay making a plan for care.
The planning component is critical for persons diagnosed with memory loss especially if the memory loss is diagnosed early, if the individual is aware of the diagnosis, and is able to express wishes and desires in writing to family and to a spouse. This is the time to appoint a medical and financial power of attorney, to finalize a living will, and to establish a will or a trust. This is also the time to have "what if" discussions with family.  What if the time comes that a husband or wife can no longer provide care at home? What if a care community becomes a necessity? In what type of community would the individual with memory loss choose to live? Are there financial resources to pay for care or is Medicaid a likely payer? What are the wishes for burial or cremation?
These practical questions should be a priority in addition to the more difficult discussions of creating memories today so that when memory does fail, the family has something tangible by which to remember a loved one: photographs, family recipes, discussion about the family tree, my wishes for what happens when I don't recognize my wife, brother, sister or children. Denial and delay of these discussions—not talking or thinking about end of life— permits family members to avoid these all important but difficult conversations that result in conflict later as the disease progresses.