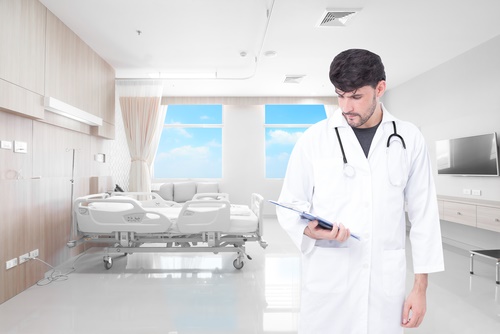 Medical Care
Appendicitis Patients: Overnight Hospital Stay Isn't Necessarily Healthier
Patients who undergo a laparoscopic appendectomy and are sent home the same day don't experience higher rates of post-operative complications than those who are hospitalized overnight, according to study results published on the Journal of the American College of Surgeons website ahead of print publication.
Each year, more than 250,000 appendectomies are performed in the United States for acute appendicitis. Increasingly, more of these patients are being sent home directly from the recovery room, avoiding an overnight hospital stay.
"Advances in early recognition and treatment of the disease process and minimally invasive techniques have allowed for some of the inflammatory response and the trauma  from surgical treatment to be lessened and recovery to be faster; as a result, patients can get back to their lives much sooner," said study principal investigator Armen Aboulian, MD, FACS, a colorectal surgeon at Kaiser Permanente, Woodland Hills, Calif. "Now up to 60 percent of non-perforated acute appendicitis patients at Kaiser Permanente are treated without an overnight stay," Aboulian said.
This decision is made at the discretion of the surgeon and treatment team. But the question has remained as to whether patients with a same-day discharge are more likely to return with complications and be readmitted.
To find out, researchers analyzed the medical records of 12,703 patients who underwent a laparoscopic appendectomy for non-perforated appendicitis at 14 Southern California Region Kaiser Permanente medical centers between 2010 and 2014. The cohort was composed  of 6,710 patients who were discharged on the same day of their procedure and 5,993 patients who were hospitalized overnight.
The Procedural and Anesthesia Scoring System is used for all patients who are discharged directly from the recovery room after any operation in all Southern California Kaiser Permanente Medical Centers. To be released, patients must have a score that is greater than 12; those with a score of 12 or less remain in the hospital at the same level of care.
For the study, researchers compared the patients discharged on the day of an operation with those hospitalized overnight. They found that the group discharged on the same day of an operation had similar return rates to emergency rooms or urgent care centers and an overall lower rate of readmission within 30 days when compared with those who were hospitalized overnight (2.2 percent versus 3.1 percent).
In both groups, postoperative rates of visits to the emergency room or radiology department for diagnostic or therapeutic imaging studies were statistically similar. Postoperative general surgery department visits were slightly higher in the hospitalized group (85 percent versus 81 percent). Factors such as older age, serious health problems, and a later procedure time (most surgeons would not discharge their patients from the recovery room late at night) increased the rate of overnight admissions.
Pages: 1 2