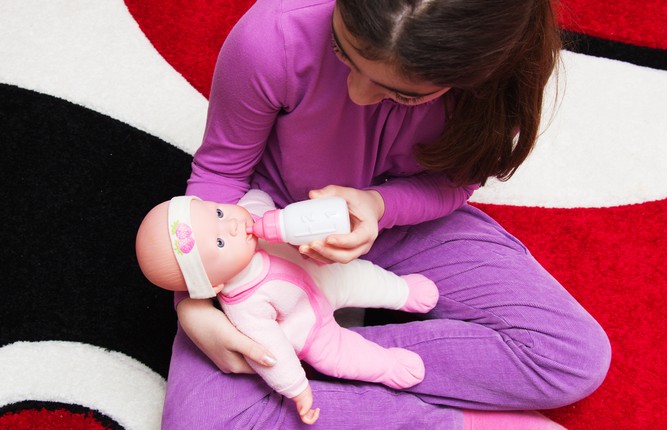 Grandparenting
Parenting
"Baby Simulator" Programs Meant to Discourage Teen Pregnancies May Backfire
Parent and grandparent alert! Teenage pregnancy prevention programs used in schools in 89 countries, including the USA, involving "baby simulator" robotic dolls appear to encourage rather than discourage girls to become pregnant. Boys, the potential fathers, are not involved in the prevention programs. Also, many parents, grandparents, and teachers have observed that the girls become attached to the dolls, give them names, and are reluctant to return them after being required to care for the dolls around the clock for several days. The dolls randomly cry when they need to be fed burped, rocked or changed, and then coo when they're satisfied. The simulators measure and report on mishandling, crying time, the number of changes, and general care.
The first randomized controlled trial to test the effectiveness of this intervention was done in Australia and published in The Lancet on August 25th 2016. The researchers found that teenage girls who took part were more, not less, likely to become pregnant compared to girls who did not take part.
A release from the publishers notes that the Virtual Infant Parenting (VIP) program is an Australian adaptation of the US program RealityWorks (often referred to as "Baby Think It Over". The VIP program includes educational sessions (the impact of not smoking, drinking or taking drugs on a healthy pregnancy, good nutrition, the financial costs of having a baby, sexual health, contraception, and respectful relationships), a workbook, watching a video documentary of teenage mothers talking about their experiences, and
The use of infant simulator programs is common in developed countries and their use is increasing in low and middle income countries. Despite this, there is no robust evidence of their effectiveness. While some studies have looked at the effect on girls' intentions to get pregnant, or attitudes to pregnancy, no randomized trials have objectively measured the impact on pregnancy.
A total of 57 schools in Western Australia took part in the study. Schools were randomly allocated to receive either the VIP program (1267 girls), which is delivered by school nurses over six consecutive days, or to receive the standard health education curriculum (1567 girls). The researchers then linked this information to data from hospital records and abortion clinics. All girls were aged 13 to15 at the start of the study and they were followed until the age of 20.
Compared to girls in the control group, girls enrolled on the VIP program had higher rates of pregnancy and abortion. Of the girls in the intervention group, 8% (97/1267) had at least one birth, compared to 4% (67/1567) in the control group. Similarly, 9% (113/1267) of girls in the intervention group had an abortion, compared to 6% (101/1567) in the control group.
Pages: 1 2