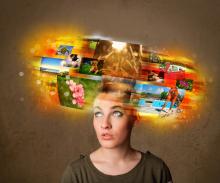 Mental & Emotional Health
Bad Memories Turned Good
Recalling an emotional experience, even years later, can bring back the same intense feelings. Researchers from the RIKEN-MIT Center for Neural Circuit Genetics n Japan have revealed the brain pathway that links external events to the internal emotional state, forming one memory by engaging different brain areas. The study published in August 2014 the journal Nature also demonstrates that the positive or negative emotional valence of memory can be reversed during later memory recall.
A release from RIKEN notes that the researchers, led by Dr. Susumu Tonegawa, was interested in how brain structures like the hippocampus and the amygdala collaborate to form memories. In particular, the team wanted to know whether the emotional valence–which describes the attractiveness or averseness of an emotion as positive or negative, and is thought of as an internal state of a person–is stored in the same place in the brain as the memory of an event that caused the emotion.
The release quotes Roger Redondo, who along with Joshua Kim is co-first author of this study, as saying, "Both the hippocampus and the amygdala are considered critical for memory formation. We wanted to know whether the memory engram was free to associate with positive or negative valences or whether it was fixed with respect to emotion. We also wanted to know at what point in the circuit the valence is assigned to the engram, in the hippocampus or the amygdala."
In the experiment, mice were placed in a novel chamber and some were given a mild foot shock, while others were allowed to socialize with a female mouse, forming either a fear or a rewarding memory. The researchers were able to genetically label neurons that were active during the formation of either memory. The same neurons were then activated using optogenetics, a technique that harnesses light-sensing machinery from microbial organisms to precisely control activity of specific brain cells using pulses of light. Depending on the valence of the initial experience, the researchers could judge from the mouse's behavior whether the activated memory was a fearful or a rewarding one by whether the mice avoided or were attracted to a particular location in the chamber where the memory neurons were optogenetically activated.
"If our technology drives memory engrams, it should work independently of whether the valence is negative or positive," explained Dr. Redondo. "We wanted to show that the memory reactivation was not restricted to fear memories, as we had used in the past."
Pages: 1 2