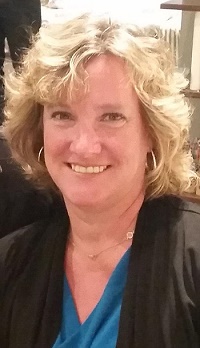 Deja Vu
I had a visit from my late husband Tim the other night. It didn't come in a dream or in the form of a hummingbird. He came embodied in his now 14-year-old son, Frankie. We have season Sabres tickets (NHL hockey). Tim had them for years and years. When I first met him, it drove me crazy. I thought the household passion for hockey was ridiculous. I remember Colin and Matthew playing mini-stick hockey in the living room and I would say in disgust to my mom, "Who the heck plays hockey in the living room?"
Of course, I have had to eat my words (and my attitude) about a thousand times since them. Frankie and his brothers and friends still play mini-stick hockey all the time and of course, the best place to play is in the living room. I get it now.
We often struggled financially for the first few years of our marriage. I finally saw a purpose for those damn tickets when the Sabres made the play-offs. People could sell their tickets for enough money to pay for the entire next season! Tim was mortified at the mere suggestion of selling play-off seats and I couldn't believe it. Then I went to a play-off game with him. Holy cow. I couldn't believe it. The energy was out of this world. I never asked him to sell those tickets again. The Sabres in the play-offs? Priceless. No amount of money would be worth it. (Ok, maybe a million bucks or something.)
Anyhow, I decided to take Frankie to the game this week. He is a teenager, so of course he wasn't thrilled with the idea. In fact, he said no at first, but then he came to his senses. Now, he was only eight when his dad died, but sometimes it freaks me out by how much he can mimic him. Part of me was thinking that I'm the parent so I need to put my foot down. Then I thought better of it and decided not to rock the boat any more than was necessary. Getting him to spend the evening with me was miracle enough.
The first argument, I knew, was going to be parking. Tim knew where to park so you didn't have to pay. I would only go to one game a year so I would tell him that I wanted to park close and pay. It is cold and miserable in Buffalo in the winter, but he was driving so I always ended up walking and freezing my ass off. Frankie is quite indignant about paying for parking. He thinks it's ridiculous. It was raining and the winds were horrid, but we parked where he told me to (which was of course, where his dad used to) and walked to the arena. I was cursing under my breath…LOL.
Pages: 1 2