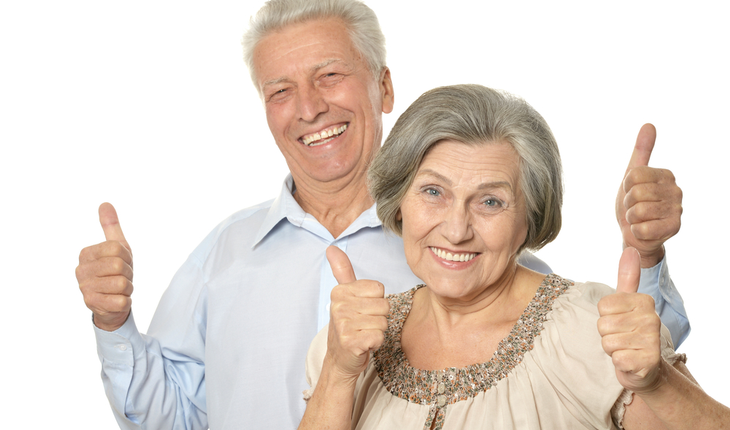 Fighting Ageism: Our Time Has Come
Last year, at age 63, Brooklynite Ashton Applewhite, author of This Chair Rocks: A Manifesto against Ageism, dyed her brown hair white. Why? Here's what she told me: "I was at a daytime movie one day, with a very senior audience, but when I looked around I noticed that there was only one woman with gray hair, and I realized that coloring our hair is one way older people make themselves invisible. When people are invisible, so are the issues that affect them. Why are we doing this?
"We're doing this to fit into an ageist culture. And I'm not wagging my finger at anyone. I know that both women and men have good reasons for covering the gray — to get or keep a job, or get a date, say. But it's not good for us, and it deflects attention away from the discrimination that makes these strategies necessary. If I were going to suggest that those people who hate dyeing their hair to cover the gray stop doing it, which I was thinking of proposing, I should walk the walk and see what it would be like to have gray — or even white — hair myself."
But hair, dyed or not, is only one aspect of invisibility. More important is a lack of regard for older people in our society. This shows up when doctors fail to ask older patients about their vulnerability to sexual disease or don't look for the cause of physical problems instead of attributing them only to age, when employers force older workers into retirement, when architects fail to design homes that are accessible for all ages. (Younger people break legs and arms and can also have trouble negotiating everyday environments, so designing for limitations means designing for all ages.)
This invisibility of older people is now changing rapidly, thanks to efforts from many people – old and young – who are working together to break down age prejudice. We who in the 1960s fought for civil rights and feminism, are now what Ashton calls "olders." ("Everyone is older than someone.") Another long-time activist for seniors (generally defined as over 65), West Sider Wendl Kornfeld, 67, told me, "This is an exciting time to be an older person! We're the revolutionaries who are going to change the way people in our age group are treated – and how we look upon ourselves."
Obviously there have been many strides in the fight for age equality. With all the accusations leveled at Hillary Clinton, 68, and Donald Trump, 70, being too old to run the country is not one of them. But many workers, middle-aged and older, can tell you stories of feeling pushed out as they age.
Some of the advances in changing attitudes and practices have come about through raising consciousness, speaking out, and taking action. We "olders" still know how to do all these things and how to work in a broader anti-ageism movement with old and young in organizations like The Radical Age Movement [https://theradicalagemovement.com], The Gray Panthers [http://www.graypanthersnyc.org], Help Age USA [http://www.helpageusa.org] (a global movement for the rights of older people), and others.
Ashton Applewhite's awareness of the ageism in our culture didn't come about like the sudden social "clicks" that the first issue of Ms. Magazine highlighted back in 1971. Instead, it emerged over the course of an eight-year journey as she interviewed dozens of octo- and nonagenarians and began researching and learning about longevity. She learned, for example, that more than half of the "oldest old" (age 85 and up) go about their everyday lives without any or minimal structured assistance and that only 10 percent live in nursing homes, although others do live in assisted living facilities. And according to two recent reports (2008 and 2010), people over 65 are happier and more optimistic than middle-agers.
In 2005 when author and researcher Joan Price was 61 years old and enjoying a vibrant sex life, she knew that other women her age and older must be experiencing the same kind of enjoyment, but couldn't find any data. So she wrote her first of four books about senior sex, Better Than I Ever Expected: Straight Talk About Sex After Sixty, and since then has heard from many other older women who have told her that they're enjoying sex more than they did in younger years.
"Why don't we know all of this?" Ashton wondered, and set out with the ambitious goal of overcoming the negative thinking – and acting — about old age that has become endemic in our society. As 57-year-old actor Frances McDormand said in 2014, "Something happened culturally so that adulthood is not a goal. No one [in our society] is supposed to age past 45 – sartorially, cosmetically, attitudinally."
Ageism is all around us, and the anti-aging industry in the U.S. is an $80 billion business, in cosmetics and drugs to make us look and feel younger. We're exhorted to strive to be as much as possible like ourselves of twenty or thirty years ago, not the people we are today.
But now more and more voices are being been raised to combat this mind-set, like Ari Seth Cohen's success with his Advanced Style blog and books, showcasing fashionable, sometimes outrageous women and men over 60. Like the growing number of women who are gray and gorgeous.
The irony here is that, as Alice Fisher, the social worker who founded the Radical Age Movement, said at a recent meeting in Manhattan cosponsored by Emerging Aging [www.emergingaging.com], the Gray Panthers, and The Transition Network for women over 50 [www.thetransitionnetwork.org], "Everybody wants to live a long life – but nobody wants to get old. And the worst thing is that we end up telling ourselves that who we are now is not good enough."
As a result of denying old age, we don't know enough about it and about how to take care of ourselves. We cannot categorize older people the way we do, for example, with children, expecting them to reach certain predictable yardsticks of development. Say geriatricians, "When you have seen one 80-year-old, you know about one 80-year-old." This is why it's especially important to do all we can to stay healthy and not to attribute every physical change to a curse of age. Younger people too face obstacles and work to resolve them. So should we.
Many people around the world envy us our wrinkles since we have had the good fortune to grow old. So why should we say that wrinkles are ugly? Frances McDormand showed her TV interviewer, Katie Couric, one wrinkle she attributed to the birth of her son, reminding me of a poem I had written more than thirty years ago in which I wrote about my 79-year-old mother: "…each line, each crease – represents a memory. … These all – and more – have left their marks…" I know that my own wrinkles at 82 have etched my own life memories – and I wouldn't give up any of them. They are all who I am.
If you still need a reason to feel good about accumulating birthdays, consider this: A growing body of research shows that the more positive people's self-perception of aging is, the longer they are likely to live. And to live well.
———————————-
ARE YOU AGEIST?
Do you buy birthday cards that joke about getting older as in: "Do your boobs hang low? – That song's not so funny anymore!"?
When you momentarily forget a word, do you chastise yourself by saying "senior moment!" not taking into account the fact that young people forget things too?
Do you see posters warning about sexual transmission of disease and not wonder why they show only young couples, when the rates of STDs and HIV have doubled in the past decade for people in their 50s, 60s and 70s?
Do you hate your body because it's no longer taut and firm, instead of reveling in it as described by blogger Chuck Nyren, who wrote that older women's bodies are more interesting than 22-year-olds': They offer "contours aplenty, shapes galore, curves, mounds, crannies, sections soft, hard, comfy to hold" with promise of more discoveries next time?
Do you tell yourself you're too old to pursue a new interest, learn a new skill, have an affair, whatever?
Do you stay with your doctor who asks, "Well, what can you expect at your age?" instead of immediately finding a new practitioner, preferably a geriatrician who can give you the best care?
Answering yes to more than one of these questions? Time for consciousness-raising!
Ashton Applewhite's C-R guide, along with many other resources, is on her website: www.ThisChairRocks.com.
Sally Wendkos Olds is an award-winning journalist, author, and speaker with 11 books to her credit as well as more than 200 articles published in major magazines including Woman's Day, Redbook, Working Woman, Ms., New York Times Magazine, Newsday Magazine, New Woman, Self, Good Housekeeping, Parents', Reader's Digest, Family Health, and Seventeen, among others. Her travel articles have appeared in The New York Times and other major newspapers, and her work has been reprinted in many textbooks and anthologies. Please visit http://sallywendkosolds.com/.