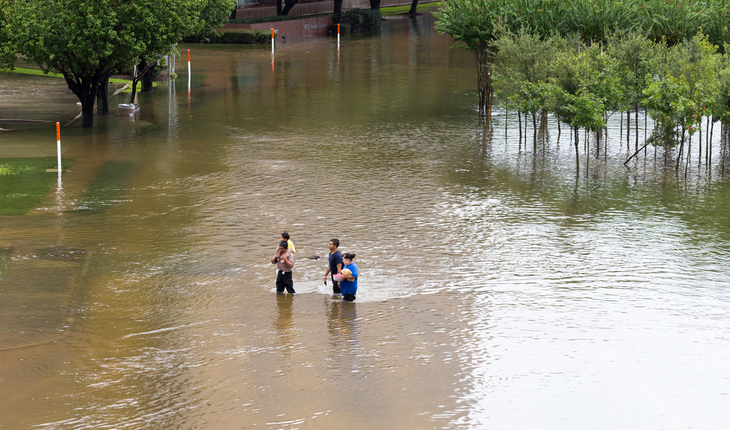 Hurricane Harvey and How to Help Its Victims
Along with millions of others, I watch in horror and disbelief as Hurricane (later Tropical Storm) Harvey lashes Texas to an unprecedented degree. As I write this, the death toll – including one Houston police officer – has risen to 30 and is likely to go higher.
Houston, the nation's fourth largest city, has had 49 inches of rainfall so far – a record for the continental United States. Towns along the Gulf Coast were battered almost into extinction. And as of today, August 30, the rain continues.
But more horrifying than statistics was the suffering we saw over and over again. In a photograph that went viral, residents of La Vita Bella Nursing Home in Dickinson, Texas, were shown trapped in waist-deep water while waiting for rescue. Ultimately, they were saved.
Other photographs and videos showed people trapped on the roofs of their homes or struggling through their flooded neighborhoods with their children or pets, often with all they could salvage stuffed in a backpack or purse. Sometimes they carried nothing at all.
The scenes were all too reminiscent of Hurricane Katrina in 2005 in New Orleans.
Along with the horror came heroism, with hundreds of volunteers in their own boats patrolling neighborhoods that were under water and rescuing as many residents as they could.
Texas Governor Greg Abbott activated 12,000 National Guardsmen, the state's entire force, according to the Army Times. The publication also said that National Guard units from Arizona, Florida, Louisiana, New Mexico, New York and Oklahoma, as well as the Coast Guard, were helping in rescue efforts. The operation stretched over an area from Houston to Gulf Coast towns such as Corpus Christi.
In the face of such unimaginable destruction, it's easy for onlookers to feel helpless and overwhelmed. You can help, though, by donating to reliable organizations that are aiding the people of Texas face both the storm and the years of recovery ahead.
Texas Monthly, one of the nation's most respected magazines, has published a list of groups that are helping and need all the help they can get. For the list, click here.
The people of Texas don't have to do it alone.