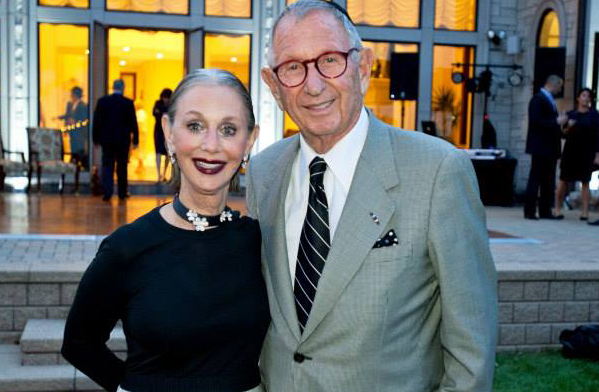 Meeting the Love of My Life
"I'm not interested in dating," I replied to my dearest girlfriend when she mentioned the name of a man she wanted me to meet. We were walking along the Hawaiian shore at sunset. She was visiting me in Honolulu seven months after I became a widow. Little did I know that day my life would change forever. She turned a deaf ear to my comment. She knew we were meant for each other. She played Cupid! Because of her, Sheldon Good became my lifelong Valentine.
He called me in Honolulu.
"Hi, my name is Sheldon Good."
"Hi," I answered nervously.
"I know how you must be feeling. I lost my wife five years ago. Gail told me you were moving to Chicago. I would like to meet you. I think we have a lot in common."
"I will be traveling to Chicago in a few months to look for an apartment."
"I will wait! I will call you again to see how you are."
"Thank you for calling."
We hung up.
One day, soon after, my daughter called me into our den.
"Mom, Sheldon Good is being interviewed on television! Now you can see what he looks like and listen to what he has to say." I ran. I listened. I looked. This was my first introduction to my lifetime Valentine, Shelly Good. He had a charm about him, a raspy firmness in his voice. I could feel his strength come through the screen.
Two months later, I flew back to the mainland to my family and into the arms of Sheldon Good.
He picked me up on a cool and beautiful November day. I was so nervous. This was my first date in twenty-four years! I walked through the glass revolving doors of the apartment building and could see him getting out of his black Jaguar in a dark suit, white shirt and beautiful tie and my heart went "Pitter patter!" He was dazzling. I was stunned by my feelings. I thought to myself, "What is happening to me!? I am so attracted to him and we have not even yet met! OMG!"
He took my hand and said, "I feel like I have known you a long time." And, helped me into the car. We arrived at the Pump Room, a beautiful restaurant where he asked the Maître D' for a "room for two" meaning to say, "a table for two!" The Maître D', knowing him, smiled and chuckled. I stood there, only feeling my heart go pitter patter!
Two hours into our non-stop conversation he looked into my eyes said, "I am going to marry you… as long as you are not crazy."
My heart again went pitter-patter, "I am not crazy," I replied. I smiled. He knew.
And then he proceeded to go down his list of what he wanted in a wife.
Physical attraction
Widow
Grown children
From out of town
Financially secure
Good family
Educated
He was right. I was even from out of town! A small town girl from "Kankakee by the Sea" who had made a home in Honolulu.
He left two days later for a very important three-day business meeting. I flew back to Hawaii having accomplished my goal of finding an apartment around the corner from my parents. I was going to move to Chicago with my children and pets, a year and a day after I was widowed.