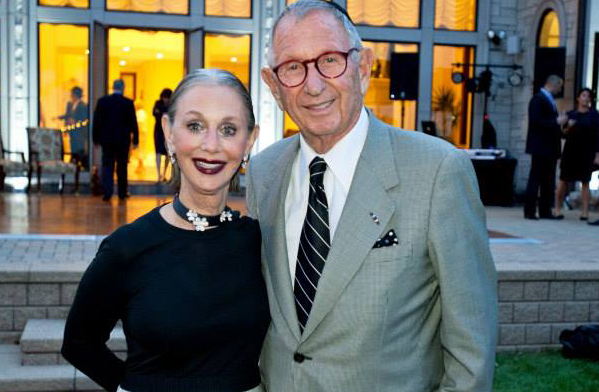 Meeting the Love of My Life
During the next two months he called and sent charming presents. And then one day he said: "I am going to Palm Springs in January. I would like you to meet me."
I literally blurted out, "I cannot meet you! I hardly know you!"
He was speechless for several moments. He stuttered and said, "Well, think about it." And we hung up.
I had to talk to someone. I choose my great Aunt Dorothy. She was not five feet tall and in her eighties. She had "joie de vivre" and would pull no punches.
"Aunt Dorothy, Shelly Good wants me to meet him in Palm Springs. I told him 'no.'"
"What! You told him no? Go out and buy yourself a beautiful new wardrobe, hop on that plane and go!"
We hung up. Then I called my Aunt Essie. She was old-fashioned, calm and loving.
Her response, "Dear, I think you should go." I spoke to my daughters and my mom. Different words, but all the same message.
I flew off into the arms of Sheldon Good on January 12, one year and one day after my husband's death. I have never left his arms.
We had a whirlwind courtship. My life mirrored "Pretty Woman." I felt like a fairy princess. Traveling the world, candle lit dinners, holding hands in Venice or Central Park, unexpected and beautiful gifts, long and intimate conversations. Talks of our future.
He proposed as we were flying across the ocean to Europe! The sun was beginning to set in the West. We had champagne. We had each other. He was my only date after losing Michael. He told me, "I feel like I marrying the Virgin Mary!"
There was no stopping us! We were married on December 22, (double numbers in Chinese folklore is "good" luck) my favorite time of the year.
Twenty-five years later, my pitter-pattering heart still belongs to Shelly Good. His devotion is unprecedented. He is my soulmate and best friend. I often say to him, "If I could have one wish it would be to relive our life together." There is no one I admire and love more than my husband, Shelly.
No fairy tale romance is complete without wonderful sayings. There have been so many but the one that makes my heart continue to pitter-patter a mile a minute, is when he looks me in the eye and says in his raspy voice, "Suzi, the best is yet to come!" It makes me so happy because I want to and am living my happily ever after, with Shelly Good.
My wish for you, dear readers, is that you too have found love that is limitless, be it from your partner, your family or even friends. Do you have a story of true love to share? Do tell!