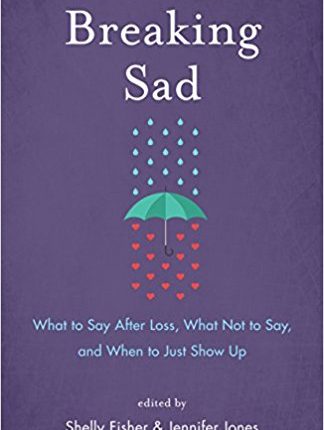 Three Little Words
This essay by Kaye Ambrose is an excerpt from the book "Breaking Sad: What to Say After Loss, What Not to Say, and When to Just Show Up.
*********
Are you okay? That is the question I am asked most often since my mother died. It is a simple question. Just three little words. Yet answering that question is so difficult.
Yes, I am okay. Thank you for asking!
This is my go-to answer. My polite answer. It is the answer for people who ask out of obligation or general awkwardness. It is the answer I know, rationally, I should give. I have my health, a job I love, and obviously my life didn't end because my mother's did. I know, rationally, my mother is finally free of pain. That her poor, disease-ravaged body is finally at rest. I am slowly starting to accept her passing. I am slowly starting to accept that I will, indeed, be okay. Except . . .
No, I am not okay!
Are you kidding me? My mother is dead! Of course I am not okay! The irrational side of me feels like screaming it at everyone who asks. It is a ridiculous question. She was sick for So long, and I took care of her alone. Even now, her sleep schedule is mine, waking in the middle of the night according to when she needed to go to the bathroom or just wanted to talk.
How could I possibly be okay when the only parent I have ever known is suddenly gone? The woman who could look at me and know before my second foot came through the door if I was hurting, angry, or ill. I will never again see her smile light up her eyes or feel her pat my hand because one of us is afraid and too stubborn to admit it.
I feel like an orphan. Silly, I know, because I am an adult. Yet, it is true. I feel like I am wandering aimlessly, searching for a vital piece of myself. I know what it is. I know that it is gone forever. I feel the burning, aching void. Except . . .
Another day has passed, and while I miss her terribly, the burning is a little less intense, the aching a little less distracting.
I don't know how I am doing, but . . .
Today I feel calmer. I am not quite so lost. I notice that I am crying a little less and laughing a little more at my memories.
My sadness, still with me all the time, doesn't consume me anymore. How am I? I am doing better. For now, better is all I can ask.
In memory of my mother, who passed away in 2014
Best thing someone did or said:
My best friend has two daughters, ages ten and three. They never said anything to me about my mother dying or asked why I was so upset. They just followed me around, and when I sat down, they snuggled up next to me and whispered, "We don't want anything; we just want to be close to you." 
Worst thing someone did or said:
Asking me, ten minutes after I received the news that she was gone, if my mother had left me anything good in her will then telling me that it was good she died because now I was free to live my own life.
Advice for someone going through a similar experience:
✽Surround yourself with people who bring you comfort.
✽Don't get sucked into useless arguments.
✽If you need to be alone to grieve, then do it. Trying to hold your grief inside will only make it worse.
Advice for those surrounding the bereaved:
✽If you have no idea what to say, then don't say anything. Give them a hug, hold their hand, or sit beside them until they are ready to talk.
✽Don't say, "Call me if you need anything" if you don't mean it.
✽Don't act like they should get over the death after a couple of days. They are dealing with death, not a head cold.
Shelly Fisher is a graduate of Syracuse University's SI Newhouse School of Communications, with a minor in psychology. She also holds a master's degree in education from UNC Chapel Hill. While in Chapel Hill she manned a twenty-four-hour crisis intervention line, laying the foundation for her interest in helping others in need and giving back to the community. She is a Philadelphia native and has led multiple small businesses in the area, along with serving on the boards for several educational and charitable organizations. She has been happily married for over thirty years and has three children, three dogs, and a bird.
Jennifer Jones graduated from Chestnut Hill College in Philadelphia with a BA in communications with a concentration in journalism and professional writing. She spent time in the field during school doing freelance work for local papers and blogs. After college, she found her passion in creative nonfiction, short essays, and songwriting. She and her partner currently reside in Philadelphia, PA.