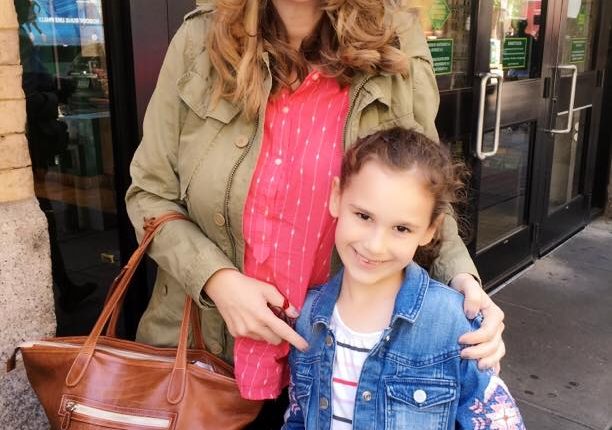 What It's Been Like Becoming a Mother in My 40s
When I became a magazine editor-in-chief in my thirties, I thought that my perk rich, cash poor, high-flying single gal lifestyle in the 1990s—press trips to Amsterdam and Paris, drinks with Ivana Trump at the Plaza, dinner with Christie Brinkley's manager—sufficed for my lack of a maternal urge.
As "The Dating Diva" my alter ego, I penned a column for the magazine I edited and made television appearances excoriating women to value themselves, be a "sweet" bitch, and always leave a man wanting more.
In my personal life, I was a no-pressure date, because I had no baby wish to fulfill.
That changed when I met a man several years my junior who "got me" in a way nobody else ever had, and I tied the knot with him in my forties. After a year of marriage, I knew that my rock solid husband would make a great dad. I wasn't so sure about myself as a mom. But it was the start of an idea. Then a diagnosis of age-related infertility got in the way.
A few painful, time consuming, invasive medical interventions later, I became a mother in my mid forties, (my daughter is now seven), joining the fastest growing group of women having children later in life and transforming my life, in ways I could never have imagined.
Becoming a mother after years of being responsible only for myself was a revelation. But, having a baby in my forties became a lesson in humility.
All new moms complain about being tired after having a baby. But after birth a younger mom doesn't waste too much time worrying about getting back to her "old" self. I thought of nothing else.
To be honest, it took over five years for me to feel—and look— like "Estelle" again.
I was quite inept at mothering at first. I remember taking what seemed like hours to collapse my baby's stroller and put it into the trunk of my car in the rain, diapering her, I broke into a sweat, as poo smeared everywhere, and I was hopeless at swaddling. I also recall schlepping the entire can of baby formula to music class, until a compassionate seasoned mom showed me a plastic canister I could bring instead.
I needed a village, but really only had one friend my age who had recently given birth—and she lived in another city.  It took ten months for me to find my tribe, and only because one mom at music class invited me to join her book club. And along the way I embarrassed myself (lunging after a guy who had a stroller in the elevator of my building, asking if I could call his wife; commiserating with another mom that we were both winging this in midlife, till she cocked her head at me and dryly told me she had just turned 30, and failing at postnatal yoga when my baby wouldn't stop crying, disrupting the class).
I couldn't count on my compatriots to man that village either.