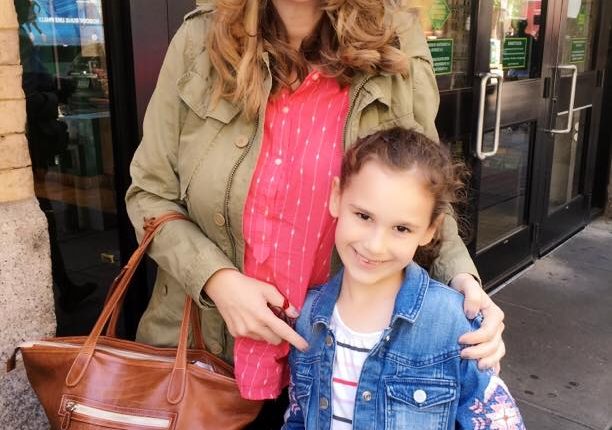 What It's Been Like Becoming a Mother in My 40s
When I attended my twenty-five year high school reunion and shared my baby pictures, I relished the oohing and ahhing. And I, in turn crowed over the photos of their kids high school graduations, college dorm shots, even some early grandkids. Back then, I felt like I was living in the Twilight Zone, but by now I've gotten used to living in this dichotomy.
As an older mom, I'm aware of the circle of life, and value the time that I spend with my sweet girl. Knowing the struggles I've gone through in my quest toward emotional intelligence and resilience  (I was bullied in junior high school) makes me want to pave the way for my child with the mortar of my hard-earned life's wisdom.
To that end, we do a lot of role-playing regarding social scenarios, whether it's enacting out conversations (or fights) between friends. I've also taught her that you can always change your focus or your behavior. And that if you set your mind on a goal (whether it is the deep water challenge at camp, or learning how to read chapter books, or mastering a dance step) if you work at it, you can achieve it step by step. I believe that knowledge is the essence of true power.
My seven-year-old daughter's whirlwind after-school schedule (tennis, hip hop, chess, play dates) and weekend activity of never ending birthday parties can be exhausting. That's why I make sure to schedule a sitter every few weeks for a date night with my husband. I also make sure to pamper myself every once in a while with a facial, massage or spa pedicure.
Still, I know how lucky I am to have her, and I love being her mom. It's also not surprising to me that the research corroborates that older parents—after the age of forty—are happier parents. As a bonus, she keeps me feeling young, which a study shows will let me live a happier, longer life.
Since I have a sense of the finality of time, I want to be around as long as possible and that desire motivates me to take care of myself by eating food that isn't processed, shunning sugar, working out and keeping active. I'm happy to see the ongoing New England Centenarian Study found that women who had children after 40 were four times more likely to live to 100 than women who had children at a younger age.
In a lot of ways, my daughter has become my muse. My experience raising her in midlife has been the impetus for essays that I've published in The Washington Post, Brain, Child, Woman's Day and a host of other publications.
Before marriage and motherhood, enjoying my "selfish singlehood", I used to feel as free as a kite because I had so many choices on how to spend my time, but I've since learned that, as a line from my favorite musical Pippin proclaims, "If I'm not tied to anything, I'll never be free." 
I'm as grounded as an old oak tree these days. And I wouldn't have it any other way.