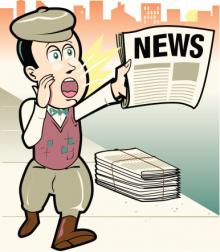 Coming Next Week! July 28th to August 1st 2014
Here's a sneak preview of the articles and blogs we'll be posting during the coming week on ThirdAge, the biggest and best site for "boomer and beyond" women since 1997. As always, we'll bring you the latest information from top experts about maintaining a healthy body, mind, and spirit as you navigate both the challenges and the joys of being a ThirdAger.
In addition, be sure to come back every morning to check out the ThirdAge Exclusives, We write them after culling the most important new academic and government studies from around the world that are making news that day.
We're your partner in making your life the healthiest and best it's ever been. Here's to you!
Monday, July 28th
Does outdoor pollution make exercise risky? The experts at the Mayo Clinic have the answer.
Learn the truth about robotic surgery.
Our video shows how to prevent bunions.
Alcohol may affect you differently as you age. Find out how to drink safely now.
Tuesday, July 29th
Choosing an assisted-living home for your parents can be a challenge. Here are three strategies to help you make the best decision.
Bad breath, that dreaded social buzz kill, can be worse in the summer. We help you keep your breath fresh all season long.
The National Diabetes Information Clearinghouse explains what you should do if you've been diagnosed with pre-diabetes.
Wednesday, July 30th
Don't miss this report about three bad sleep habits to give up and five good habits to start.
Watch our video to find out how to prevent getting a sunburn while in the car.
Here's how to put some sizzle back in your sex life!
Blogger Susan Good offers 10 tips from her mother about how to live long and well.
Thursday, July 31st
The experts at the Cleveland Clinic offer nine ways to tame your chronic pain.
Anti-aging expert Andrea Warshaw Wernick gives you five steps to establish a workout routine for better health.
Is their wildlife in your backyard? Here's how to cope.
Blogger Nancy Wurtzel details five new trials that target Alzheimer's disease.
Friday, August 1st
The experts at Harvard Medical School explain how to get rid of warts.
Is fish oil helpful for brain injuries? Our video explores this issue.
Blogger Sally Franz continues the saga of her third marriage at age 63 and her new status as a stepmother.