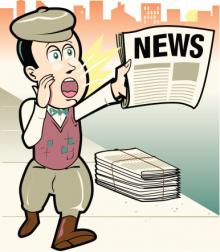 Coming Next Week! June 16th to June 20th 2014
Monday, June 16th
Find out everything you need to know about artificial sweeteners, straight fro, the Food and Drug Admnistration
Our video will help you get in shape for summer.
How does friendship affect your health? The experts and the Mayo Clinic have the answer.
Bedbugs. Ewww! Here's how to check for them and get rid of them.
Blogger Susan Tolles talk about going back t oschool after the age of 50.
Tuesday, June 17th
Is marijuana really medicine? Fbnd out what the National Institute on Drug Abuse has to say about this controversial topic.
Measuring your "ambulatory blood pressure" at home is easy. Harvard Medical School experts give you a step-be-step guide to keeping tack of your BP.
Are you shy about bringing up sensitive subjects such as sex and mental health issues with your doctor. The National Institute on Aging has tips to put you at ease so you can discuss these important topics and get the care you need.
Blogger Laura Lee Carter writes about what your mind has to do with love.
Wednesday, June 18th
Irritable Bowel Syndrome can be serious. Our video gives you the facts about this common digestive disorder.
Falls are common for people over 50. Sherry Amatenstein shares her saga of taking a tumble that dislocated her shoulder. Spoiler alert: She had successful surgery and was happiy riding a horse just four months later!
Are you one of the millions of older Americans suffering from chronic pain? Here's help from the National Institutes of Health.
Gardening expert Melinda Myers blogs about growing your own backyard paradise
Thursday, June 19th
Don't fall into the trap of overeating at backyard barbeques! Here's how to enjoy the food without stuffing yourself.
We teach you five exercises for building strength at any age.
The National Cancer Institute has advice about adjusting the "new Normal" after cance diagnosis for your loved one.
Blogger Jed Diamond shares seven secrets for saving your marriage and living "joyfully ever after".
Friday, June 19th
If you suffer from psoriasis, you'll benefit from the expert advice in your video
The Cleveland Clinic debunks seven myths about colonoscopies.
Blogger Sally Franz gets married for the third time at 63 – and writes about the big day with her usual wit and charm. We give you a link to the first three articles in her series about her ThirdAge romance.