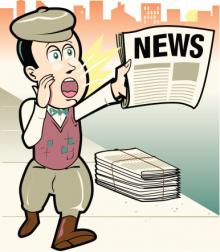 Coming Next Week! June 2nd to June 6th 2014
Here's a sneak preview of the articles and blogs we'll be posting during the coming week on ThirdAge, the biggest and best site for "boomer and beyond" women since 1997. As always, we'll bring you the latest information from top experts about maintaining a healthy body, mind, and spirit as you navigate both the challenges and the joys of being a ThirdAger.
In addition, be sure to come back every morning to check out the ThirdAge Exclusives, We write them after culling the most important new academic and government studies from around the world that are making news that day.
We're your partner in making your life the healthiest and best it's ever been. Here's to you!
MONDAY, JUNE 2nd
*When is the best time to start a diet? We have the answer!
*Medications can do this to your liver . . .
*Narcolepsy, the disorder that causes people to fall asleep suddenly, is often the butt of jokes. Yet it's no laughing matter! Watch our video to learn about treatments.
*What if there were three simple things you could do today to feel better tomorrow? Dr. Frank King says there are! Be sure to read this health boosting information.
Blogger Sheryl Ness RN says gardening restores body and soul. Find out why
TUESDAY, JUNE 3rd
The experts at Harvard Medical School tell you 10 ways to prevent yourself and your loved ones from falling.
Warning! Men often ignore these seven cancer symptoms.
Are you living alone because you're a widowed or divorced empty nester? Judy Santamaria MSPH offers a trendy solution to this lonely scenario!
WEDNESDAY, JUNE 4th
Should you trash it or eat it? We tell you the surprising truth about expiration dates on food labels.
Don't let a MRSA infection threaten your health! Our video let's you in on the secret to foiling the superbugs.
It's tick season again! Here are 10 must-know facts to keep these bugs at bay
Blogger Jed Diamond says male menopause is a medical reality. He has facts to prove that!
THURSDAY, JUNE 5th
The experts at the National Institutes for Health list the five things you probably don't know about depression.
No need to buy expensive anti-aging skincare products that might not work anyway! We have six strategies for a perfect homemade routine to keep you looking younger than your years.
If you're a caregiver for someone with Alzheimer's, you know that agitation is a major challenge. Read our safe and effective ways to calm your loved one down.
Blogger Marijke Vroomen Durning, RN clears up the confusion about whether red wine is good for you or not.
FRIDAY, JUNE 6th
Diabetes symptoms aren't always all that obvious. Catch the condition early by learning about these subtle signs.
Fire up the grill for some good summer eating! Our video offers heart-healthy BBQ advice.
Blogger Sally Franz got married for the third time at the age of 63. Don't miss Friday's installment in our series about her unexpected ThirdAge romance.