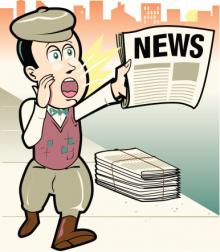 Coming Next Week! June 9th to June 13th 2014
Here's a sneak preview of the articles and blogs we'll be posting during the coming week on ThirdAge, the biggest and best site for "boomer and beyond" women since 1997. As always, we'll bring you the latest information from top experts about maintaining a healthy body, mind, and spirit as you navigate both the challenges and the joys of being a ThirdAger.
In addition, be sure to come back every morning to check out the ThirdAge Exclusives, We write them after culling the most important new academic and government studies from around the world that are making news that day.
We're your partner in making your life the healthiest and best it's ever been. Here's to you!
Monday, June 9th
If you think fresh produce is r nutritious than frozen or canned products, you may be in for a big surprise when you read our update!
Music, music, music! Out Video lets you in on how rhythms and rhapsodies can improve your health.
Could you or a loved one be suffering from mental health problems? Learn what's normal and what's not.
Osteoarthritis is really a pain! Find out whether dietary supplements can help ease the agony.
Tuesday, June 10th
We rounded up advice from top experts on how to solve health, fitness, and beauty dilemmas this summer.
The American Academy of Ophthalmology reveals what you might not know about cataracts.
Don't let tendinitis keep you from leading an active lifestyle. The National Institutes for Health has tips on how to protect your tendons while exercising.
Wednesday, June 11th
Grandparent alert! Our video teaches you how to prevent and treat swimmer's ear, a common problem for kids in the summer. P.S. Adults can have this problem as well.
Don't miss these seven important facts about cooking with oil
The experts at Harvard Medical School give you a list of useful resources for caregivers.
Thursday, June 12th
Here's what you must know if a loved one has been diagnosed with Parkinson's.
The Centers for Disease Control's tips for keeping your companion animals (and yourself) healthy will make you a better pet parent!
Don't sit in that proverbial rocking chair! Here's what you need to know about exercise as you get older
Blogger Jed Diamond talks about "Love Insurance" that protects your most valuable asset.
Friday, June 13th
Don't let Friday the 13th be an unlucky day when you load up your plate at the salad bar. Our video has surprising facts about unhealthy choices lurking among the veggies and fruits at your favorite
Blogger Sally Franz continues to regale us in this third episode of her series about getting married for the third time at the age of 63.