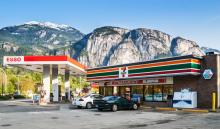 Diet & Nutrition
Convenience Store Confidential: Eat Smart When You're on the Road
By Kristin Kirkpatrick, MS, RD, LD
Americans love hitting the open road, especially during summer. Road trips mean long hours in the car, with pit stops at gas station convenience stores — often the only options on long stretches of highway.
Too often, when we fuel up our cars, we fuel up our bodies with snack choices we regret 20 miles down the road. And although current evidence suggests convenience store choices are improving, the temptations that have always lined the shelves (think candy bars and potato chips) aren't going away anytime soon. When a convenience store is your only option, look beyond those diet disasters to more healthful — if limited — choices. Here are your best bets.
Fresh fruits and vegetables
Yes, you can buy prouce at gas stations. You can typically find fresh fruits such as bananas, apples and oranges in a bowl on the counter or in the refrigerator section. Apples provide just the right amount of sweetness and crunch to curb your craving. They're also high in fiber, which keeps you full longer. Fruit cups from the refrigerator present another option, but check the label carefully. If a fruit cup contains added sugar, don't buy it.
As for veggies, look for individual bags of baby carrots, a good source of beta-carotene. There are also prepackaged combinations of carrots or celery with dip or peanut butter. Again, check the labels, and aim for dips such as hummus or black bean. Avoid peanut butter that contains added sugar and excessive oils.
Dairy products
Dairy items such as milk, string cheese and low-fat yogurt are staples at many convenience stores. If you haven't stopped for breakfast yet, yogurt can start your day with a solid dose of calcium and probiotics. Just be wary of fancy flavors, and choose plain yogurt that doesn't have added sugar. You can pair plain yogurt with that fresh fruit you bought, too.
I don't recommend cereal often, but for a quick road breakfast, look for 100 percent whole grain options on store shelves. Then pair them with low-fat milk, which is rich in calcium rich and fortified with vitamins. And for a snack, grab a single serving of string cheese; you'll get a protein punch with fewer than 100 calories.
Nuts and dried fruit
Trail mixes provide a smart snack — as long as you pick wisely. Look for mixes that contain nuts, seeds and dried fruit such as raisins. Avoid the ones with added sugars and processed foods such as candy-coated chocolates and salted pretzels. Choose raw, unsalted mixes rather than "caramel-coated" or "honey-roasted" nuts, which turn an otherwise healthy snack into a candied treat.
Finally, don't forget about portion control and assume you can eat the whole bag. Many convenience store trail mixes contain two to six servings, making the entire bag a calorie bomb.
Grab-and-go lunches
Pages: 1 2