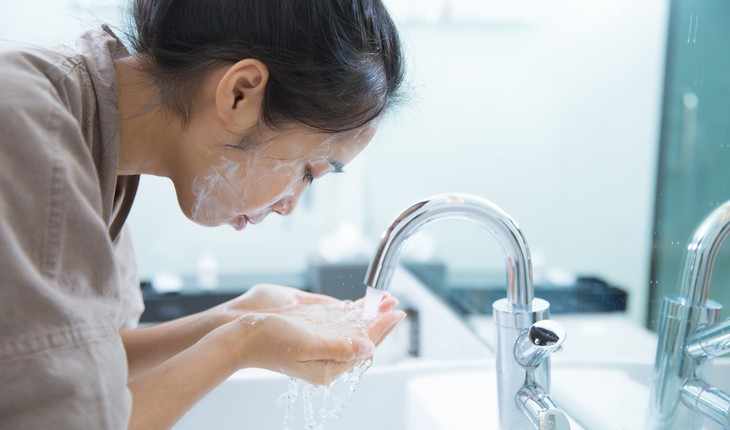 Skin
Dermatologists Share their Skin Care Secrets
Here, from the American Academy of Dermatologists, top dermatologists share their skin care secrets:
Dr. Nada Elbuluk
"I wash my face twice a day with a mild cleanser and use a morning moisturizer with SPF 30 or higher. If I'm having an acne breakout, I use an acne spot treatment, typically with benzoyl peroxide and clindamycin. I also avoid the urge to pick or squeeze at any acne, as I know this will cause more inflammation and subsequent scarring. In the evening after cleansing, I use an eye cream and facial cream with retinol and antioxidants. During the day, if I know I will be outside for extended periods, I carry sunscreen in my bag so I can reapply. I also keep an eye out for any new growths or changes I see on my skin. Following these guidelines has helped my skin stay healthy, acne free, skin cancer free, youthful and radiant."
Dr. Lauren Ploch
"Each morning, I apply an antioxidant serum that contains vitamin C. I follow this with a zinc oxide-containing sunscreen. I apply a retinoid product three to four nights per week, which is as often as I can tolerate it without irritation. I attribute my even, acne-free complexion to my retinoid — it's the one skin care product I could not go without.
"I have treated my dark spots with various lasers and found them to be very effective as long as I protect myself from the sun after treatment. For wrinkles, botulinum toxin has ensured that I don't have any! I started getting the occasional botulinum toxin injection in my mid 20s but began regularly injecting myself every four to six months in my early 30s. I prefer injecting smaller doses over the span of a few weeks to ensure that I always retain some natural expression. I also had a hyaluronic acid filler treatment last year and plan to follow up with additional treatments as necessary to restore volume lost over the past decade.
"Because I work long hours on my feet, compression socks are a must. I also wear them when traveling long distances, as sitting on a plane can lead to swelling and increased pressure in the legs. I prefer laser therapy to sclerotherapy for my small spider veins, and I elevate my legs at rest whenever possible to prevent their recurrence."
Dr. Anne Chapas
"I've had noninvasive radiofrequency tightening treatments and dermal fillers regularly over the last few years. I also really like laser resurfacing, which removes damaged skin cells and replaces them with new ones. I think that smaller, regular, preventive in-office treatments, in addition to sun protection and topical retinoid use, have helped to maintain my youthful, healthier looking skin.
Pages: 1 2