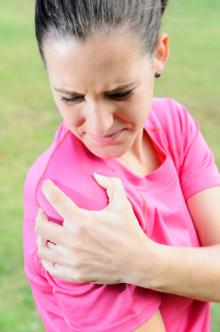 Determining Severity of Rotator-Cuff Injuries
About 90 percent of people over 60 years old have rotator-cuff disease. A new ultrasound probe that has been developed at Clemson University in South Carlina could take some of the guesswork out of determining the severity of rotator-cuff injuries, making it easier for doctors to decide whether patients need surgery. Rotator-cuff injuries are the second highest-costing disease in the country, behind only back injuries.
A release from the university quotes lead researcher David M. Kwartowitz as saying. "As the population ages, this will get to be worse. Most people think about this in terms of athletes, but athletes are only part of the problem."
The release reports that Kwatowitz is leading a team that has been working on a probe that provides tissue measurements down to the millimeter. The device is harmless, and he expects it will be inexpensive enough for just about any doctor to buy.
While injuries are highly common, much remains unknown about the rotator cuff, the group of muscles that hold the upper-arm bone to the ball-and-socket joint.
Doctors already are using ultrasound images to determine the extent of rotator-cuff injuries. But current technology doesn't offer any way to quantify the extent of the injury or the quality of the tissue, so diagnosis depends on expensive MRIs that delay treatment.
The release quotes Kwartowitz as saying, "Two patients can walk in with similar injuries. One may need surgery and one doesn't. There is no definitive way to know which is which. We're looking at how to change this."
The Kwartowitz team has developed a pressure-sensing probe that measures the extent of the rotator-cuff tear and the quality of the surrounding tissue. The team's probe has the potential to decrease costs by 60 to 70 percent and give patients real-time information for their diagnoses.
While misdiagnosing injuries can have devastating effects, better measurement can improve patient outcomes, said Chuck Thigpen, a Proaxis Therapy clinical research scientist who is collaborating on the Clemson research. Recent evidence suggests physical therapy may help some patients get better without surgery, he said.
Surgery requires a six-month commitment to rehabilitation; limited activity; direct medical costs and indirect costs, such as time off from work and travel for care, Thigpen said. However, delaying surgery in some patients may complicate surgery later and limit long-term shoulder function, he said.
Kwartowitz, an assistant professor of bioengineering, is collaborating with Steadman Hawkins Clinic of the Carolinas, including Dr. Richard Hawkins. Also collaborating is Dr. Mike Kissenberth, Greenville Health System vice chairman of orthopedics.
The statistics are troubling, with 30 to 90 percent of rotator-cuff repairs failing in two years. The statistics are most grim for the most complex repairs, with as many as 90 percent failing.
Pages: 1 2