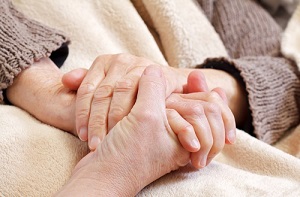 Medical Procedures
Devices That Make Life Easier for Caregivers and Patients
By Nancy Wurtzel
The Alzheimer's caregiving industry is ripe for innovation.  Currently, more than 17 million Americans are caring for someone with Alzheimer's disease.  As our population ages, and the disease affects more and more people, the number of unpaid caregivers will also steadily increase.
That's why companies and entrepreneurs are scrambling to come up with new ideas for streamlining and improving Alzheimer's care.
The challenge is to create products that solve problems, are reliable, and easy to master.  In fact, ease of use is critical to the already overburdened caregiver.  If a product is cumbersome and difficult to implement, it may not be used at all.
From personal experience as an Alzheimer's caregiver, I know this to be true.
Six years ago, when my mom was in the moderate stages of Alzheimer's disease, she was having difficulty remembering to take her medications.  Since taking the right pills at the right time is so important, I conducted some online research in hopes of locating a solution.  My search turned up a relatively new product, the electronic pill reminder/dispenser.
When my selected product arrived, I had difficulty programming it.  The directions were written for a high-level engineer rather than a consumer.  On the verge of giving up, I contacted the company.  After a few false starts, someone in their marketing department emailed me step-by-step directions which made perfect sense.  My persistence paid off as the little machine turned out to be a big help in providing care for my mom.
Since then, a lot of new medication dispensers have become available.  Prices have decreased, and the technology is much easier to program.
For instance, AARP recently gave the MedMinder high marks for ease of use and monitoring ability.  The digital MedMinder will flash a light when medications should be taken and then beeps if there is no action.  If the beep gets no response, then a recorded voice from a loved one will call out a reminder.  If the medications are still not taken, the person will receive a phone call while the caregiver simultaneously receives an email, text or call.  Additionally, caregivers can keep tabs on the medications through an online program.
Other products that have been improved and refined in the last few years include GPS tracking devices, home motion sensors, and video feeds.  Most of these products can now be accessed and tracked by computer, tablet or smartphone.
Everyone knows the "Help! I've fallen and can't get up" device, which has been the punchline of countless jokes.  In reality, though, the technology is no laughing matter.  Not only has it saved lives, but it has evolved into a nearly $2 billion industry called mPERS, short for Mobile Personal Emergency Response Systems.