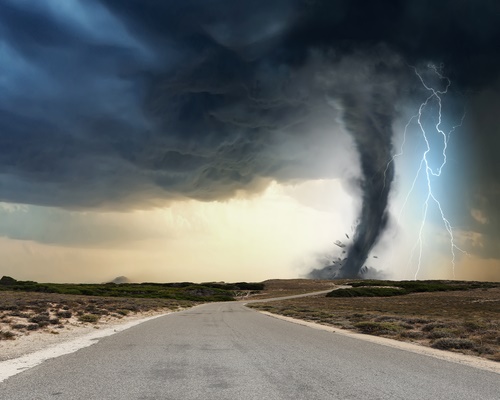 Caregiving
Stress-Free Living
Well-being
Disaster Preparedness for People with Disabilities
Disasters are frightening for everyone and are even more so for people with disabilities and access needs. Here, the experts at www.ready.gov tell you how you can prepare ahead for worst-case scenarios so you and your loved ones can be prepared.
Collect and distribute information that is crucial during a disaster
The experts recommend that you create a paper copy of contact information including phone, email, and social media info for your family, friends, caregivers, neighbors and other important people/offices, such as medical facilities, doctors, schools, workplace contacts or service providers.
If you are Deaf, hard of hearing or have a speech disability and use traditional relay services or video relay service, add information for connecting through relay services on a landline phone, mobile device and computer.
Share your emergency plans with the trusted people in your support network. The experts say that this information should include where your emergency supplies are kept; what you need and how to contact you if the power goes out; and what medical devices or assistive technology you'll need if there is an evacuation order.
Additionally, you and your support network should also know additional friends or relatives you can contact if you can't reach other directly.
Stock a basic disaster supply kit
The kit should include everything you need to maintain your health, safety and independence. Identify essential items you and your family will need to survive for three to five days or longer, if rescuers can't get to you immediately.
The Ready.gov experts say the kit should include medical supplies, assistive devices, food for your specific dietary needs, prescription medicines, diabetic supplies, hearing aid batteries, phone charger and back up battery land line phone (and TTY if you use this technology). Other items could include a manual wheelchair, extra seat cushion, egg crate padding and other medical equipment and mobility devices you may need to maintain your health, safety and independence, and supplies for your service animal.
You should also plan for the needs of people who may have a hard time in unfamiliar or chaotic surroundings. Some suggestions from the Ready.gov experts: handheld electronic devices with movies and games (don't forget spare chargers and batteries) as well as sheets and twine or a small pop-up tent to decrease stimulation.
Make a medical plan
Even if you do not use a computer, put important information onto a flash drive or mobile device for easy transport in the event of an evacuation, the Ready.gov experts say. Have your medical professionals update it every time they make changes in your treatment or care.
Maintain a list of phone numbers for your doctors, pharmacy, service providers and medical facilities.
Ask your local pharmacy or doctor to provide a list of your prescription medicine and medically prescribed devices.