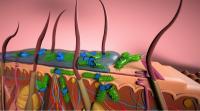 Skin
Skin Health
Discovery Could Cure Skin Infections
Researchers at Los Alamos National Laboratory in New Mexico and partners have tested the use of ionic liquids to break bacterial biofilm layer on skin. A release from the laboratory explains that biofilms, which are like a protective tent over a colony of harmful bacteria, make the treatment of skin infections especially difficult. Microorganisms protected in a biofilm pose a significant health risk due to their antibiotic resistance and recalcitrance to treatment. Biofilm-protected bacteria account for some 80 percent of total bacterial infections in humans and are 50 to 1,000 times more resistant to antibiotics than simpler bacterial infections.
The release quotes researchers David Fox as saying, "In essence, we may have stumbled onto a magic bullet. Through a robust screening strategy, our research team has identified a unique class of materials, known as ionic liquids, which both neutralize biofilm-forming pathogens and deliver drugs through the skin. We extended our current capability in antimicrobial platforms with ionic liquids to new heights by partnering with Dr. Mitragotri at UCSB, who is an expert in transdermal drug delivery platforms. The merger made perfect sense.
"In several cases, we found the ionic liquid was more efficacious on a biofilm than a standard bleach treatment and exhibited minimal cytotoxicity effects on human cell lines (unlike bleach). This has excellent prospects for aiding antibiotic delivery to the pathogen through biofilm disruption but, most interestingly, the ionic liquids themselves are quite effective for pathogen neutralization."
This work could have especially useful applications for military medical treatments, he noted, where soldiers in the field can be exposed to bacterial infections that are particularly difficult to treat.
Biofilms often persist in the periphery of an actual wound, beneath an intact, healthy skin layer and the difficulty of their treatment is largely due to the outermost layer of the skin, the stratum corneum, being a natural barrier for drug delivery.
"If the bacterial biofilm can be disrupted, delivery of antibiotics is greatly enhanced, and any dispersed pathogens are generally restored to normal antibiotic susceptibility," said Fox. "Further, many bacterial infestations in wounds penetrate under the outer skin layer, the stratum corneum, and deep into the tissue (epidermis and dermis). These materials are able to penetrate through the skin and effectively carry antibiotics to the deepest layers."
Pages: 1 2