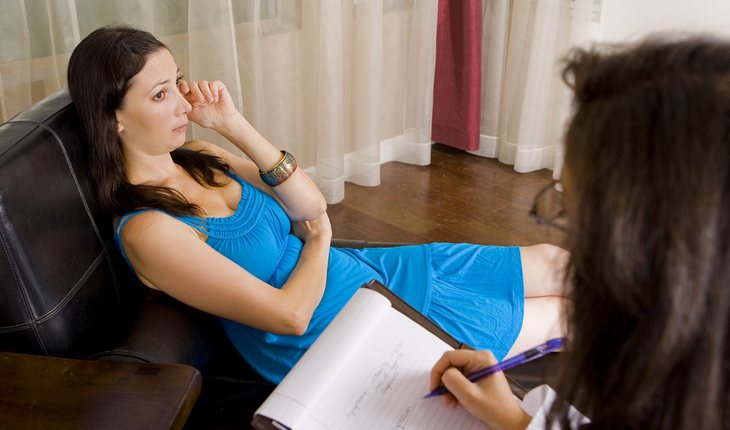 Mental & Emotional Health
Do You Need A Therapist? These 5 Signs Point to Yes
You lose a loved one, a job, a relationship, a pet or get into an accident, have an injury, gain weight, have a baby, return from war or experience something else that just rattles you to your core. You know something isn't right, you feel a bit off, but continue living your life thinking you'll get over it. We all have been there and often with time we do get over it, sort of. These life scars helps us to grow and while that is great in theory, the pain that comes with growth can take a toll on us. Our mental health is directly connected to our physical health. When we see illness we know it's a clue our mental outlook is out of whack. Do you need a therapist?  How can you tell? Here are five signs that you could benefit from therapy.
Risky behavior to self-soothe.You might medicate with sex, drugs or alcohol or other risky behaviors. Anytime you are escaping a problem with alcohol or drugs that's a red flag that your coping mechanisms are off. You're desperate for an escape and sex, drugs and alcohol seems to be a fast fix. A therapist can help you by providing tools to help you cope and pivot to more positive hopeful, better feeling self soothing thoughts.
You're sleeping too much or not at all.People who are grieving or sink into a depression either can't get out of bed or seek to pack their days with distractions and work. These are the people who start cleaning out their closets and scrubbing bathrooms at 3am. Again how we cope is what we should pay attention to. A therapist can help you understand the thoughts that keep you awake and make sense of them. They can help you to understand how you choose to soothe yourself and offer healthier ways of coping.
Your mental self-talk is terrible and you lose time in rumination. When our mind wanders and it's to disparaging, self-loathing mental noise it's damaging and self sabotaging. You can drift off while at a red light and realize you would have stayed there for 20 minutes if someone didn't beep at you. Negative self-talk can manifest itself in serious illness if not addressed. When you find yourself in your own head too much and blocks of time go by wrapped up in thought, it's time to consider therapy. A therapist can listen to how you typically talk to yourself about yourself or your perception of a specific problem and offer tools to end that cycle of self-defeating mental focus.
You have physical manifestations that tie to grief, depression, anxiety, worry etc.When you physically feel ill or may be sweaty, faint, jittery, when a certain situation or topic comes up that's a sign you should talk to a therapist. A therapist can screen you to see if you perhaps need medication temporarily to address a chemical imbalance that is resulting in physical reactions and sensations. It's important to share these physical occurrences with the therapist. A good therapist will ask pointed questions as part of an on-boarding process.