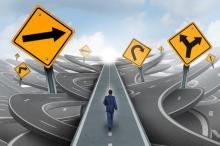 Medical Care
Doctors & Patients Making Decisions Together
Shared decision-making is a concept that's gaining traction in medicine, particularly in areas of health care, where patients are presented with more than one reasonable treatment option. The programs, which feature patient-education tools such as online surveys and videos, have several goals. One is to help people thoroughly understand their choices and assure them that they are making informed decisions. Another major objective is to curb health care costs by sometimes steering people away from expensive treatments that are unlikely to result in better health or improved patient satisfaction.
According to a release from the University of California, Los Angeles, UCLA's shared decision-making program helped Craig Mann when was diagnosed with prostate cancer, He worked closely with his physicians to make the choices he felt were right for him.
Mann was bewildered when he was diagnosed with prostate cancer late in 2013. The 54-year-old Lake Forest, California man is a laboratory scientist who takes good care of himself, eating healthy foods and participating in marathons and triathlons. He was certainly unprepared to hear that he had cancer.
Yet the diagnosis was only the first blow. Mann was taken aback by the numerous and different treatment options doctors presented to him. A urologist recommended surgery. A radiation oncologist recommended radiation therapy. Each option had pros and cons. Mann's primary-care physician suggested he consult with experts at UCLA. That's when he encountered a novel program designed precisely for people like him who are standing at the crossroads of complex medical decisions. Before attending the consultation, Mann was advised to respond to a questionnaire to help him learn about prostate-cancer treatments and think through his choices.
The release quotes Mann as saying, "That was helpful for choosing what was important to me. The survival statistics are really good for this cancer. But I was most concerned about quality-of-life issues. The survey was a way to think about everything and hone in on my priorities."
Ultimately, shared decision-making cuts through biases and crystallizes important issues for both doctor and patient, said Dr. Christopher Saigal, vice chair of urology at UCLA. He implemented his department's shared decision-making program in which Mann participated. "Shared decision-making improves the decision-making processes for both parties," he said. "It is a collaboration. The idea is not that the patient tells the doctor what to do — the doctor does have expertise and an opinion that has to be heard by the patient — but the patient is in charge of the decision. It's his body."
The time appears to be right for the emergence of formal shared-decision-making programs. The concept is written into the Affordable Care Act as an objective of good health care and has been promoted by major U.S. health care organizations, such as the Institute of Medicine, for more than a decade.