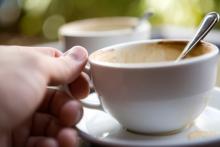 Does Coffee Lower Diabetes Risk?
Drink up: New research shows that consuming 1.5 more cups of coffee per day decreases the risk of type 2 by 11 percent.
Researchers from the Harvard School of Public Health, Harvard University, Boston, MA, USA, and colleagues, looked at the associations between four-year changes in coffee and tea consumption and the risk of type 2 diabetes in the subsequent four years.
The authors relied on data from three large studies: the Nurses' Health Study (NHS) (female nurses aged 30-55 years, 1986-2006), the NHS II (younger female nurses aged 25-42 years 1991-2007), and the Health Professionals Follow-up Study (HPFS) (male professionals 40-75 years, 1986-2006). The authors of those studies collected detailed information on diet, lifestyle, medical conditions, and other chronic diseases every two to four years.
The authors of the most recent study documented 7,269 incident type 2 diabetes cases, and found that participants who increased their coffee consumption by more than one cup a day over a four-year period had a 11% lower risk of type 2 diabetes in the subsequent four years compared to those who made no changes. Participants who decreased their coffee intake by one cup a day or more had a 17% higher risk for type 2 diabetes. No link was found between diabetes and changes in tea consumption or decaffeinated coffee.
The authors cautioned, though, that the connection might be due to the fact that people may reduce their consumption of coffee after being diagnosed with type 2 diabetes.
The findings were published in the journal Diabetologia.