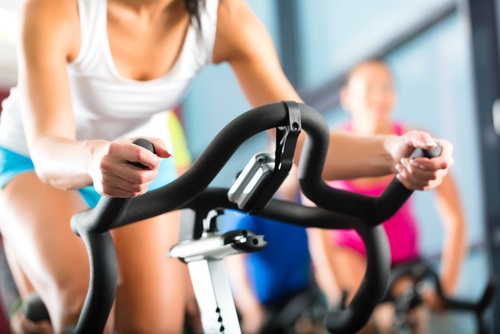 Exercise
Fabulous Fitness Destinations, Part II
I've already told you about some fabulous places to work out while you travel. (Click here to see my choices.) But why not take it up a notch? Here are some unusual spots to get your workout done while you are cruising, casino-ing or hanging out!
Mashantucket, Conn.
WHAT TO DO. Bowling, Hiking
I know what you're thinking. The only workout you can get at a casino is for your hand as it's giving away your money. I say put your cash back into your pocket, stick that hand into a bowling ball. Foxwoods, the largest resort casino in North America, houses High Rollers (https://www.foxwoods.com/high-rollers/), an upscale bowling and gaming lounge. You can burn up to 210 calories per hour as you strive to get your strikes and scores (not to mention the conditioning benefit picking up a 6-to-9 lbs. bowling ball). Foxwoods is also connected to several hiking trails in Connecticut's picturesque woods. I made my way to the outside exhibits of the Pequot Museum. Just follow the green fox paws on site for the easy trail like the scenic trail loop behind the Two Trees Inn, or the red paws for the more challenging Lantern Hill Trail that takes you up nearly 500 feet above sea level.
WHERE TO STAY. When it comes to having everything under one roof, Foxwoods has it covered. Hosing more than 2200 hotel rooms over four hotel spaces (https://www.foxwoods.com/hotels.aspx).  Walking from one end to the next could be a workout in itself! There are also several restaurants on the premises. That includes Cedars, a fine dining facility that serves fresh lobster and sea bass. I worked out in Grand Pequot's state-of-the art fitness facility, and then relaxed in its jacuzzi, adjacent to its spa pool.
Atlantic Ocean
WHAT TO DO. Dancing, Jogging
Gorging yourself on buffets and food stations is a prerequisite on any cruise ship. Thank goodness my Carnival trip offered dance classes every day to combat my 24-hour eating schedule. While at sea, I learned moves to Michael Jackson's "Thriller," an 80s-inspired Hip-Hop routine, Salsa and Funk dancing. If those classes weren't enough, there was a theme-inspired dance party almost every evening, where my cruise entertainment team led lively line dances and dance-offs. When I wasn't on the dance floor, I was up on the top decks jogging the 963 ft. length of the ship (five loops is approximately one mile), while enjoying a lush green view of the Bahamas.