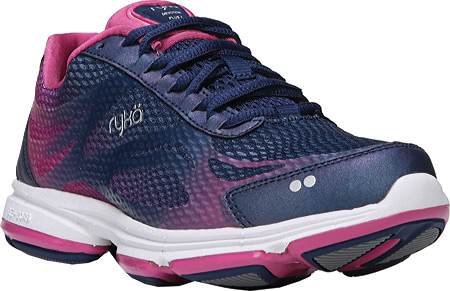 Exercise
Fantastic Fitness Gear for This Month - and All Summer
By Delaina Dixon
Hi, thirdAGE readers. One of the things I love about fitness is that it's constantly offering new ways to make your exercise and healthy life endeavors more effective, manageable and fun. Technology has truly changed the face of fitness, perfecting everything from a simple walking shoe to how you monitor your exertion. And since I'm a fitness fanatic myself, I want to try everything out there. Here are five products I've discovered that have helped me transform my fitness experience, and can help transform yours.
Ryka's Devotion Plus 2 Walking Shoe. Walking is one of the best forms of exercise out there, and it costs nothing than the price of the shoes you wear. Ryka, the athletic gear company designed for women, excels in creating walking shoes that are functional and stylish. The Devotion Plus two is the newest member of the brand's award-winning Devotion line. There's breathable mesh at the top of this lightweight shoe, which gives toes some wiggles space, along with creating cool visual interest. The bottom of my foot is cradled in Ryka's RE-ZORB active foam for more shock resistance, and its smooth lining and cushioning insole serves up an anatomical Precise-Return(TM) footbed. The new fall edition comes in four multicolor shades, including my favorite, a mix jet ink blue, rose violet and chrome silver. And it's only $80 for this high-intensity shoe without an exorbitant price tag. Click here to find out more.
Activmotion Bar. There's one sentence I never want to say in my life: "I've fallen and I can't get up." But it can happen if your balance is out of whack. As we age, we lose muscle strength and flexibility, which can lead to fall-related injuries, something that will happen to one out of three Americans over 65, according to The New York Times. Enter the ActivMotion Bar. While it looks like a standard weighted bar, it's far from it. Rolling steel weights inside the bar create "active resistance," forcing weaker muscles to work harder to stabilize themselves. Used by physical therapists at the Mayo Clinic, the ActivMotion Bar can improve core strength and balance, and increase range of motion. I tried it at Pilates on Fifth in New York City, and the 6-lb. weight was a challenge as I tried to keep the balls in alignment. The at-home set comes in 4.5, six, eight, 10, 15, and 18-lbs. bars, and come with two instructional DVDs. There's also a download of the ActivMotion Bar app for more advice and instruction, including free 10 & 30-minute do-anywhere workouts. Click here to learn more.
Pages: 1 2