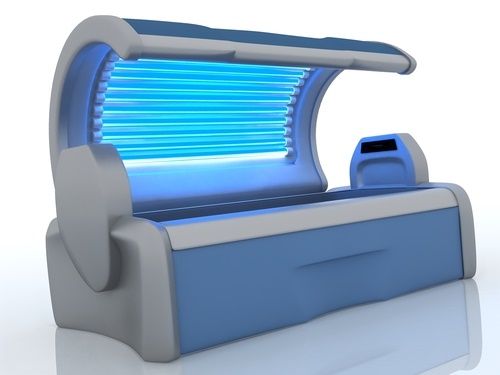 Malignant Melanoma
Skin cancer
FDA Proposing New Tanning-Bed Regulations
There are many risks from indoor tanning devices: Using sunlamp products such as indoor tanning beds or booths exposes you to ultraviolet (UV) radiation and increases your risk of eye injury, skin damage, and skin cancer—including melanoma, the deadliest type of skin cancer.
Due to these risks, the Federal Drug Administration (FDA) already requires indoor tanning devices to be labeled with a visible, black-box warning stating that they should not be used by people under age 18. We know that the effects of exposure to UV radiation add up over one's lifetime. Therefore, UV radiation exposure in youth and teenagers puts them at a greater risk for skin and eye damage later in life. That's why the FDA now is proposing a rule to protect youth from the risks of these devices by restricting use only to adults age 18 and older. This proposed rule also would require indoor tanning facilities to inform adult users about the health risks of indoor tanning and to obtain a signed risk acknowledgement from these users.
The agency also is proposing a second rule that would require manufacturers and indoor tanning facilities to take more actions to help improve the overall safety of indoor tanning devices to protect adult consumers.
"There is increasing evidence that indoor tanning during childhood and early adult life increases the risk of skin cancer, including melanoma," says Markham C. Luke, M.D., Ph.D., a dermatologist and the deputy office director of the Office of Device Evaluation at the FDA's Center for Devices and Radiological Health. "Hundreds of youth also are injured each year across the country due to using sunlamp products."
In fact, people who have been exposed to radiation from indoor tanning are 59 percent more likely to develop melanoma than those who have never tanned indoors, according to the American Academy of Dermatology.
On average, more than 3,000 emergency room visits in the United States happen each year because of injuries related to indoor tanning (based on data from 2003 through 2012), according to the Centers for Disease Control and Prevention (CDC). More than 400 of those patients each year were individuals under age 18.
"The FDA is particularly concerned about children and teens being exposed to UV radiation from indoor tanning because the effects of exposure add up over your lifetime," Luke explains. "Exposure to UV radiation from indoor tanning is a preventable cause of skin cancer. The FDA is committed to protecting public health by informing consumers of the risks of indoor tanning."
How This Announcement Could Affect You
This action is intended to help protect youth from a known and preventable cause of skin cancer and other harms—and to help adults make decisions regarding tanning based on truthful information. The FDA is also acting to make sure manufacturers and tanning facilities take steps to help improve the safety of indoor tanning devices.
Pages: 1 2