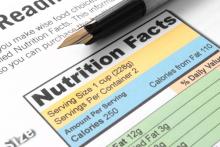 FDA Wants to Update Nutrition Labels
The Food and Drug Administration wants to update the look and content of the Nutrition Facts Label to help consumers make better food choices and follow healthy dietary practices. The proposed changes include:
The changes proposed to the Nutrition Facts label are based on the latest information in nutrition science, the latest consensus reports from public health agencies, and the most recent public health and nutrition surveys.
A release from FDA quotes FDA Commissioner Margaret A. Hamburg, M.D. as saying, "The current nutrition label has served us well for the past 20 years, but we must be sure that what is iconic doesn't become a relic. The proposed changes to the Nutrition Facts label should make it easier than ever to judge a food by its label and reflect the latest evidence on how what we eat affects our health."
Jessica Leighton, Ph.D., MPH, senior advisor for nutrition science and policy at FDA, says the agency has long been considering changing the Nutrition Facts label to help consumers make more informed choices. "With all the latest science that has come out and all the latest studies on the health of Americans and food consumption trends, we've got more updated information to go on now," she says.
A sugars area good example of this fact. The current label simply lists "Sugars," which refers to both added and naturally occurring sugars. FDA is proposing that the label have a new line, indented under "Sugars," listing only sugars that are added during the production process—appearing as "Added Sugars."
For the average American, 16 percent of their total daily calories come from added sugars. The major sources are soda, energy and sports drinks, grain-based desserts, sugar-sweetened fruit drinks, dairy-based desserts and candy. But foods that are more nutritious can have added sugar as well, including cereals, fruit packed in syrup, and sweetened yogurt.
Here is some of the information that factored into the decision to propose this change:
*The Dietary Guidelines for Americans recommend reducing intakes of calories from added sugars and solid fats because high intake can decrease the intake of nutrient-rich foods. The guidelines provide evidence-based nutrition information and advice, and are the basis for federal food and nutrition education programs.
*An Institute of Medicines (IOM) report on macronutrients (carbohydrates, protein and fat) stated that many foods and beverages that are major sources of added sugars have low levels of nutrients such as vitamins. IOM is the health arm of the National Academy of Sciences, a private, non-profit society of distinguished scholars. Its role is to help those in government and the private sector make informed, evidence-based health decisions.
Pages: 1 2