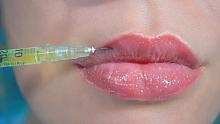 Fillers Can Cause Bacterial Infections
Many people have fillers injected into their facial tissue to give them "bee-stung lips" or to smooth out their wrinkles. Unfortunately, a lot of cosmetic treatment customers experience unpleasant side effects in the form of tender subcutaneous lumps that are difficult to treat and which – in isolated cases – have led to lesions that simply will not heal. Research published in March 2014 the journal Pathogens and Disease by the University of Copenhagen in now supports that, despite the highest levels of hygiene, this unwanted side effect is caused by bacterial infection.
A release from the university notes that injections of fillers were previously reserved exclusively for trauma treatment – when rebuilding a face disfigured in a traffic accident, for example. However, the jelly-like substances are increasingly being used in beauty treatments with the intention of making lips swell up and to erase the effects of ageing from the skin. Side effects in the form of stubborn, tender lumps or even lesions are becoming an increasing problem:
The release quotes Morten Alhede, a postdoc at the Department of International Health, Immunology and Microbiology, as saying, "Previously, most experts believed that the side effects were caused by an auto-immune or allergic reaction to the gel injected. Research involving tissue from patients and mouse models has now shown that the disfiguring lesions are actually due to bacteria injected in connection with the cosmetic procedure. What is more, we have demonstrated that the fillers themselves act as incubators for infection, and all it takes is as few as ten bacteria to create an ugly lesion and a tough film of bacterial material – known as biofilm – which is impossible to treat with antibiotics," says.
Biofilm is resistant to antibiotics
Treatment with fillers is very common. According to the American Society for Aesthetic Plastic Surgery (ASAPS), treatment with products based on hyaluronic acid – such as Restylane – constitutes the second-most popular non-surgical cosmetic procedure in the United States. The precise figures for Denmark are not known, but there can be no doubt that the numbers are rising rapidly – and a rise in the number of treatments will inevitably make the side effects more evident.
"Because a lot of cosmetic practitioners refuse to accept that side effects from filler procedures are caused by bacteria, claiming that such problems are caused by allergic reactions, the usual procedure has been to treat with steroids. This is actually the worst possible treatment because steroid injections exacerbate the condition and give the bacteria free rein. Fortunately, many of the filler producers have now become aware of the risk of bacteria and recognise that the gel can act as a bacterial incubator," says Associate Professor Thomas Bjarnsholt from the Department of International Health, Immunology and Microbiology. He continues:
Pages: 1 2