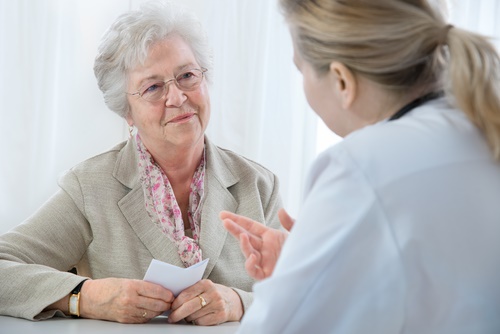 Medical Care
Finding A Doctor You Can Talk to
It may be helpful to develop a list of a few names you can choose from. As you find out more about the doctors on this list, you may rule out some of them. In some cases, a doctor may not be taking new patients and you may have to make another choice.
Consult Reference Sources
The American Medical Association's Doctor Finder website and the American Board of Medical Specialties' Certification Matters database can help you find doctors in your area. These websites don't recommend individual doctors, but they do provide a list of doctors you may want to consider. MedlinePlus, a website from the National Library of Medicine at NIH, has a comprehensive list of directories, which may also be helpful. For a list of doctors who participate in Medicare, visit www.medicare.gov/physiciancompare.
Don't forget to call your local or state medical society to check if complaints have been filed against any of the doctors you are considering.
What Does "Board Certified" Mean?
Doctors who are board certified have extra training after regular medical school. They also have passed an exam certifying their expertise in specialty areas. Examples of specialty areas are general internal medicine, family medicine, geriatrics, gynecology, and orthopedics. The American Board of Medical Specialties has a database that is updated daily of all board-certified physicians at www.certificationmatters.org. You can also call toll-free to verify a doctor's certification at 1-866-275-2267. Board certification is one way to learn about a doctor's medical expertise; it doesn't tell you about the doctor's communication skills.
Learn About Doctors You Are Considering
Once you have narrowed your list to two or three doctors, call their offices. The office staff is a good source of information about the doctor's education and qualifications, office policies, and payment procedures. Pay attention to the office staff—you will have to communicate with them often!
You may want to set up an appointment to meet and talk with a doctor you are considering. He or she is likely to charge you for such a visit. After the appointment, ask yourself if this doctor is a person with whom you could work well. If you are not satisfied, schedule a visit with one of your other candidates.
When learning about a doctor, consider asking questions like:
Do you have many older patients?
How do you feel about involving my family in care decisions?
Can I call or email you or your staff when I have questions? Do you charge for telephone or email time?
What are your thoughts about complementary or alternative treatments?
When making a decision about which doctor to choose, you might want to ask yourself questions like:
Did the doctor give me a chance to ask questions?
Was the doctor really listening to me?
Could I understand what the doctor was saying? Was I comfortable asking him or her to say it again?
Make a Choice