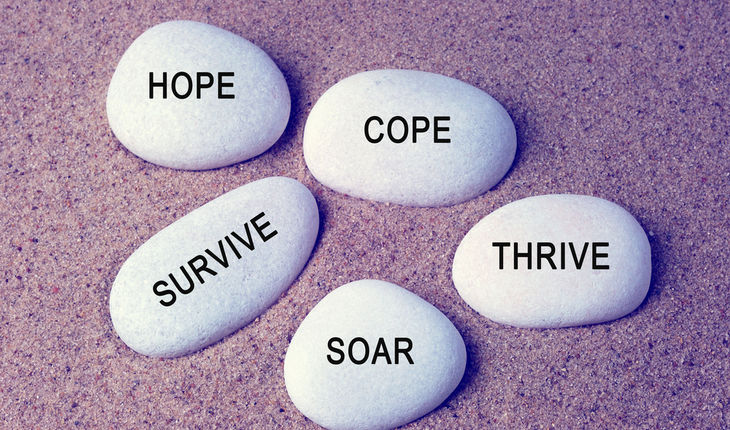 Mental & Emotional Health
Five Practices to Help You Thrive in Perilous Times
Regardless of where you fall on the political spectrum, where you live, your age, marital status, race, religion, sexual orientation or profession, 2017 is likely to be a year unlike any we've ever experienced. America has never been more divided, and many people are feeling alienated and anxious.
The key to remember is this: Thriving is our birthright. So now, more than ever, it's critical to do what we can to build our capacity to be resilient. In times of great uncertainty, we must learn to navigate a parallel path that enables us to have wings in the air and feet on the ground. This means having the spiritual vision that enables us to see the beauty and compassion that's unfolding around us so we don't lose hope, while also staying grounded so we're ready to take the actions necessary to manage whatever comes our way. To effectively navigate this parallel path, we must work to develop strength in five key areas.  We must cultivate a strong body, a strong spirit, a strong mind, a strong community, and a strong character, not just to survive, but to thrive now and in the future.
Cultivate a Strong Body. I have a coaching client I've been trying to inspire to take up an exercise practice. When we last met, I said, somewhat in jest, "If you won't do this for yourself, then do it for your country!" We all need strong bodies because physical strength helps to ground us. It helps keep our immunity high in times of stress so we don't get sick. A strong body positively impacts our attitude and helps us to feel that we have the power to successfully navigate the world, even in difficult times. Exercising regularly, getting good nutrition each day and making sure we get sound, restful sleep gives us the energy we need to thrive and successfully manage stress and fear.
The Practice: Move your body for a half hour or more at least four times each week and for a minimum of fifteen minutes every day. Walk the dog. Use a treadmill or an elliptical while you're reading or watching TV. Run. Swim. Play basketball. Do Yoga. Just MOVE. Get good nutrition every day. Say good-bye to fast food. When you're hungry and need a snack, have a piece of fruit, some nuts, or a food bar. Make sure you're consistently getting at least seven hours of sleep each night and be mindful of how much alcohol you ingest. Notice how you feel about your ability to manage your emotions when you make it a conscious practice to take better care of your body. How does it shift your attitude?  How does building a stronger body help you navigate challenges? How does it shift your level of energy and your capacity to focus on the most important things and people in your life?