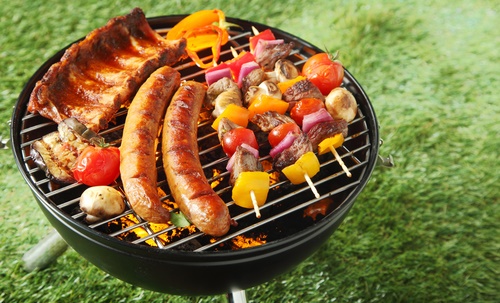 Food Safety for Hikers and Campers
Getting out into nature to hike or camp is one of summer's great pleasures. You'll get the most out of your expeditions, though, if you know how to prepare and cook your food correctly. Here, the experts from www.foodsafety.gov, a division of the U.S. Department of Agriculture, show you the best ways to avoid the unwelcome souvenir of foodborne illness.
Hot or Cold?
The first principle is to keep foods either hot or cold. Since it is difficult to keep foods hot without a heat source (although the new insulated casserole dishes will keep things hot for an hour or so), it is best to transport chilled foods. Refrigerate or freeze the food overnight. For a cold source, bring frozen gel-packs or freeze some box drinks. The drinks will thaw as you hike and keep your meal cold at the same time. What foods should you bring? For a day hike, just about anything will do as long as you can fit it in your backpack and keep it cold — sandwiches, fried chicken, bread and cheese, and even salads — or choose non-perishable foods.
Most bacteria do not grow rapidly at temperatures below 40 °F or above 140 °F. The temperature range in between is known as the "Danger Zone." Bacteria multiply rapidly at these temperatures and can reach dangerous levels after 2 hours (1 hour if 90 °F or above).
Keep It Clean
The second principle is to make sure everything is clean. Bacteria present on raw meat and poultry products can be easily spread to other foods by juices dripping from packages, hands, or utensils. This is called cross-contamination. When transporting raw meat or poultry, double wrap or place the packages in plastic bags to prevent juices from the raw product from dripping on other foods. Always wash your hands before and after handling food, and don't use the same platter and utensils for raw and cooked meat and poultry. Soap and water are essential to cleanliness, so if you are going somewhere that will not have running water, bring it with you. Even disposable wipes will do.
Stick to Safe Drinking Water
Don't depend on fresh water from a lake or stream for drinking, no matter how clean it appears. Some pathogens thrive in remote mountain lakes or streams, and there is no way to know what might have died and fallen into the water upstream. Bring bottled or tap water for drinking. Always start out with a full water bottle, and replenish your supply from tested public systems. On long trips you can find water in streams, lakes, and springs, but be sure to purify any water from the wild, no matter how clean it appears.
The surest way to make water safe is to boil it. Boiling will kill microorganisms. First, bring water to a rolling boil, and then continue boiling for 1 minute. At higher elevations, where the boiling point of water is lower, boil for several minutes.