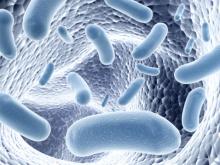 Digestive Health
Good Vs. Bad Bacteria
Investigators have identified the mechanism through which an enzyme helps to maintain a healthy group of gastrointestinal microbes.
In their study, which used a mouse model, researchers from Massachusetts General Hospital (MGH) found that intestinal alkaline phosphatase (IAP) promotes the growth of good bacteria by blocking the growth-inhibiting action of adenosine triphosphate (ATP).
"We found that ATP is a natural inhibitor of bacteria in our intestines and that IAP promotes the growth of 'good' bacteria by blocking ATP," says Richard Hodin, MD, of the MGH Department of Surgery, senior author of the report. "By helping to keep these healthy bacteria happy, IAP protects us against dangerous pathogens that can get the upper hand."
Beneficial bacteria and other microbes that in the human digestive system contribute to the digestive process and also prevent the proliferation of any disease-causing bacteria.
A rise in the number of harmful bacteria can lead to medical problems including chronic diarrhea, inflammatory bowel disease and metabolic syndrome.
Researchers said they planned to build on their findings. "Now we need to find out whether IAP also promotes the growth of beneficial intestinal bacteria in humans," a professor at Harvard Medical School. "If it does, IAP-based therapies could offer a simple and safe approach to treating the millions of patients who suffer serious health problems caused by disruptions to intestinal microbial balance."
The study was published in the American Journal of Physiology.