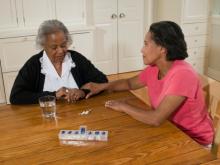 Caregiving
Harvard's Advice on Caregiver Resources
Caregiving is one of the most heartbreaking, difficult tasks around. Compounding all the obstacles is a feeling of being alone, that you are the only one in your endeavor. All too often, caregivers can't rely on family for a number of reasons: distance, conflict, even a small or nonexistent family. But you can get help from organizations geared toward caregivers. And that can help you in facing the challenge of looking after a loved one.The experts at Harvard Medical School have compiled a list of services and resources that caregivers can access:
Respite care workers. These aides provide caregivers with time off from their caregiving duties. They are usually hired for short-term duties.
Transportation services. Free or low-cost transportation to doctor appointments may be available for seniors or disabled people. Ask local community or religious organizations as well as councils on aging and local senior centers.
Adult day care. According to the Harvard experts, such programs have helpful assistance, but what the package consists of can very. Some features can include nursing care, meals, transportation to and fron the center, and possibilities for interaction through social activities. Additionally, they may help with personal care tasks such as help with bathing. They can be invaluable in offering a caregiver some respite.
Certified nurse's aides. If you need in-home help, these aides can assist with bathing, dressing and personal care tasks. But, the Harvard experts caution, they aren't nurses and can't give medication.
Hired companions and homemakers. These aides provide help with practical and not specifically health-related tasks. They can help with grocery shopping, cooking and doing laundry, and can also be a companion for your loved one. (Editor's note: Some people hire college students for jobs like these. It's best if you go through a college employment office or get a reference from a friend you trust. Supervise the first few times the companion is on the job, to make sure he or she knows the right routines.)
Home health aides. According to the Harvard experts, home health aides perform services like bathing and dressing, and may do light housekeeping also.
Meal programs. Check the Meals on Wheels Association of America (703-548-5558, or www.mowaa.org) to see if hot, nutritious meals are available. You can also ask senior centers, religious organizations or community groups if they have a program.
There are more comprehensive options available as well:
Physical, occupational, or speech therapists. According to the Harvard experts, these therapists, who are trained professionals, may do in-home therapy sessions.
Pages: 1 2