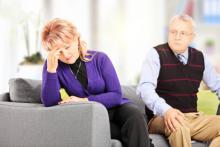 Mental & Emotional Health
Health-Care Coverage: A Tragic Exception
By Michelle Andrews, Kaiser Health News
Dealing with the aftermath of a suicide or attempted suicide is stressful enough. But some health plans make a harrowing experience worse by refusing to cover medical costs for injuries that are related to suicide—even though experts say that in many cases such exclusions aren't permitted under federal law.
Yet patients or their loved ones often don't realize that.
Under the 2006 federal Health Insurance Portability and Accountability Act (HIPAA) rules, employment-based health plans can't discriminate against an individual member by denying eligibility for benefits or charging more because they have a particular medical condition such as diabetes or depression.
Insurers, however, are allowed to deny coverage for all members for injuries caused by a specific activity or for those that arise from a particular cause spelled out in the policy. These are called "source-of-injury" exclusions. So an insurer that generally covers head injuries or broken bones could decide not to cover those injuries if they're caused by risky recreational activities such as skydiving or bungee jumping. In a similar vein, insurers sometimes apply source-of-injury exclusions to injuries that are "intentionally self-inflicted," including suicide or attempted suicide.
Mental health advocates and government experts point to the HIPAA rules, noting that source-of-injury exclusions aren't allowed if they're the result of a medical condition. So if someone is severely depressed and sustains injuries from a self-inflicted gunshot wound, for example, the health plan can't deny claims for medical treatment, say experts, if the plan would generally cover the treatment for someone whose wounds were not self inflicted.
Further, the 2006 regulations "make clear that such source-of-injury exclusions cannot be imposed even if the mental health condition is not diagnosed before the injury," said a spokesperson for the Department of Labor in an email.
When a 24-year-old young woman with bipolar disorder attempted suicide last year by taking an overdose of an anti-anxiety medication, her mother assumed that the mother's employer plan covering them both would pay the bills for her daughter's emergency room visit and her three days in the hospital near her Fort Wayne, Ind., home. But the insurer declined to pay the $6,600 hospital charge, citing an exclusion for care related to suicide.
"I knew I could appeal the decision, but I didn't think I had any grounds to do so," the mother says. "I thought that's just the way it was."
After negotiating with the hospital, the bill was reduced by half and her daughter has been paying the balance off in installments, she says.