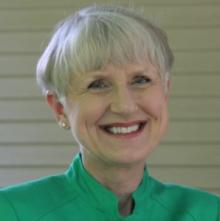 Breast Cancer
Health Close-Up: Stage IV Breast Cancer
There has never been a shortage of excitement in Dian "CJ" M. Corneliussen-James's life. She supported airlift operations for Desert Storm in Iraq, served as the intelligence lead on the Joint Chiefs of Staff for the Somalia Conflict, and coordinated intelligence activities of 11 nations for NATO crisis intervention.  Never a dull moment was an understatement.
At age 53 and newly retired from work as an intelligence officer for the U.S. Air Force, CJ was pleased to get a perfectly clean mammogram. She had always taken good care of herself, paying attention to fitness and diet. Three months later, in August of 2004, she found a lump under her arm while taking a shower. It was quickly discovered that the mammogram had not picked up her stage II breast cancer. Surgery was followed by chemo and radiation. CJ was put on a regimen of medication, continued to work as a private citizen for the government, and took care of her mother, whom she had moved from California to Maryland during a one-week break between chemo and radiation.
That was the beginning of what would turn out to be a diagnosis of metastatic breast cancer, or MBC, an advanced form of breast cancer in which the cancer cells spread from the breast to other parts of the body — most commonly to the lungs, liver, bone, and brain.
In the summer of 2006, after an additional diagnosis of a completely unrelated disease – systemic lupus— CJ began feeling nauseous and losing weight. Doctors discovered that her breast cancer had metastasized to a lung. She had the lobe with the tumor removed and followed up with treatment. She still receives an injection of Faslodex once a month.
"It was shocking," says CJ, "very frightening because stage IV breast cancer is a terminal disease: 97 to 99 percent of patients with MBC will die as a result of their disease." The average survival rate after an MBC diagnosis is 18 to 24 months and the 5 year survival rate is only 15 percent. Having beaten those odds so far, CJ has turned her energy and intelligence skills toward raising awareness of MBC and the dire need for funding for research to improve those statistics.
Upon leaving her job in 2007, one of the first things that was apparent to CJ with her new MBC diagnosis was that there was very little support for those with the disease. "Traditional breast cancer support groups don't really help with MBC. You go and they are talking about breast reconstruction and recovery and life getting back to normal. That is not relevant to me. I started an MBC support group almost immediately."