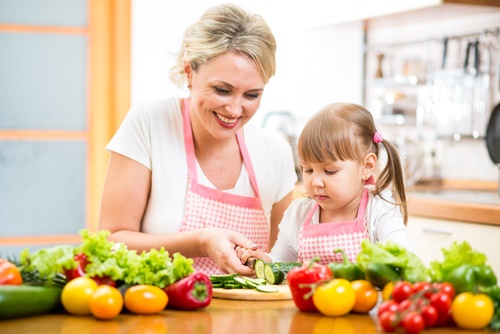 Healthy Eating for Families
Start teaching kids at a young age about the importance of eating a healthy diet and being physically active. Give them the basics of how to read nutrition labels, so they can see for themselves how much sugar, for example, is in a food or beverage.
Get kids drinking healthy beverages. Avoid soda, fruit juices and sweetened tea. One cup of these drinks often contains their sugar allotment for an entire day. Instead, encourage kids to drink water, especially between meals.
Families can make an effort to be fit and physically active together. Plan walks, bike rides, hikes, sports and other activities that will get the family moving.
"When families focus on getting healthy together, it becomes fun and everyone benefits. When we teach kids to cook healthy food in our classes we always make sure that it's fun," adds Heidi DiEugenio, a director at the Doctor Yum Project. "We often see kids going home and teaching parents to enjoy good food. It's about staying positive and taking that first step. With March being National Nutrition Month, it makes a great month for doing just that."
Dr. Nimali Fernando and Heidi DiEugenio are two of the original founders of  The Doctor Yum Project, a nonprofit organization with the mission of transforming the lives of families and communities by providing an understanding of the connection between food and overall health, as well as empowering them with the tools to live a healthy life. The project offers free online tools to help families make healthier meals. They also offer a preschool nutrition curriculum, with 40 classrooms and almost 600 participating preschoolers. Fernando, otherwise known as Dr. Yum, is a board-certified pediatrician. She is also the co-author of the book "Raising a Healthy, Happy Eater: A Parent's Handbook." To learn more, visit www.doctoryum.org.
..
Pages: 1 2