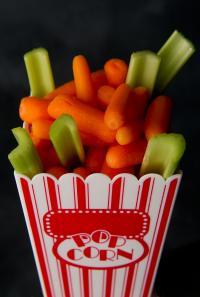 Healthy Food Sells Well at Concession Stands
A University of Iowa-led study came to a surprising and encouraging conclusion: Concession stands can benefit financially from offering healthy foods instead of just junk food, Beyond that, consumers are pleased to have the helathy choices available. A release from the university reports that in the fall of 2008, researchers asked the booster club in Muscatine, Iowa to add healthy foods such from apples and string cheese to its concessions menu while also putting healthier ingredients in big sellers like nachos and popcorn.
The club agreed to take a chance on this and gamble paid off. According to the study, published in March 2014 in the Journal of Public Health, the club netted stable sales and revenues with the healthy-food additions over one full season. Profits remained intact as well. Average sales per varsity football game rose to $6,849 in 2009 from $6,599 the year before, an increase of 4 percent. Not only that, but the healthy foods made up 9.2 percent of concession sales, signaling that the new products could boost overall sales. Parents and students also said they were happy with the healthy-food choices, according to surveys cited in the study.
"This study is the first to evaluate the results on satisfaction and sales of making changes to concession-stand offerings in school settings," writes the research team, led by Helena Laroche, assistant professor in internal medicine and pediatrics at the UI and the study's corresponding author. "It provides preliminary evidence that altering offerings and adding healthy options can be done by working in concert with parent groups. Furthermore, these modifications can provide reasonable revenue and profit margins without negative effects on customer satisfaction."
To date, six other school booster clubs in Iowa have added healthy foods to their concession menus, following a how-to guide written by Laroche based on her experience in Muscatine.
"Booster groups have worried that healthier items wouldn't sell, and it's important for them to make money to support student activities," Larochesays. "This shows it can be done."
Booster clubs across the United States directly support schools' athletic and extra-curricular programs like band and choir. The Muskie Boosters, for instance, raise $90,000 annually for athletics and other outside school activities. With crucial dollars at stake, clubs can be reluctant to tinker with a reliable cash generator like concession sales.
Pages: 1 2