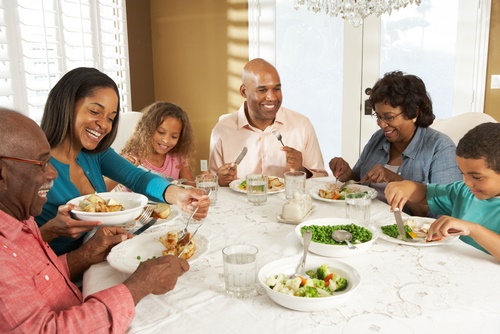 Healthy Habits: Family and Friends Can Help More than Doctors
When it comes to improving a patient's health, relationships with family and friends may be more effective than interactions with physicians or other health care providers, experts say.
According to a news release from the University of Pennsylvania, Penn Medicine experts suggest a five-step program to help bring out social engagements that promote health.
The conclusion was part of a perspective article published in the New England Journal of Medicine.
"Spouses and friends are more likely to be around patients when they are making decisions that affect their health – like taking a walk versus watching TV, or what to order at a restaurant. Patients are also more likely to adopt healthy behaviors – like going to the gym – when they can go with a friend," explains co-author David Asch, MD, MBA, a professor of Medicine at the Perelman School of Medicine at the University of Pennsylvania and director of the Penn Medicine Center for Health Care Innovation. "Though people are more heavily influenced by those around them every day than they are by doctors and nurses they interact with only occasionally, these cost-free interactions remain largely untapped when engineering social incentives for health.  That's a missed opportunity."
Because of these lost opportunities, and the high costs when doctors and nurses keep tabs on their patients, the authors say it's important to engineer social engagements that enlist the social support patients already have, and allow organizations to test their acceptability. "Concerns about privacy are often the reason doctors and hospitals avoid organizing social support," Asch says in the news release. "But while privacy is very important to some patients under some circumstances, more often patients would love if their friends and family helped them manage their diabetes, and those friends and family want to help people get their health under control."
The authors define a ladder with escalating rungs of social support ranging from no social engagement – such as when a patient is expected to take medication as part of a routine, without anyone seeing them do it or holding them accountable – to a design that relies on reputational or economic incentives, and incorporates teams or other designs that hold patients accountable for their health behaviors and habits
Pages: 1 2